We all want to contribute and focus on greener energy and a sustainable future. So, instead of using plastic wares, we invest in more reusable ones or even use bikes to lessen the gas and chemical air emissions, however, these are just pieces to a big puzzle because massive amounts of garbage and pollutants are produced during construction operations. In reality, we could gradually solve all kinds of pollution by just changing the usual construction to a more efficient way. We could build structures more sustainable for our future and at the same time preserve all kinds of energy. 
What is Green Building?
As the future awaits green building in the construction industry, it sets a new standard for a sustainable process of construction and remains in growing demand in the field. Green construction is a type of process of building infrastructure efficiently to create a positive impact on the environment and climate. Construction is changing as a result of green buildings. When people hear the terms "green building" or "sustainable construction," they frequently picture an energy-efficient, environmentally friendly building or infrastructure system. Building this "green" construction may include utilizing solar panels, robotic systems, eco-friendly materials, and more. When utilizing green construction, resources such as water, land, and energy, are maintained and reduced which makes it even more eco-conscious. Basically in this way, we build ourselves a world in the future we want to live in.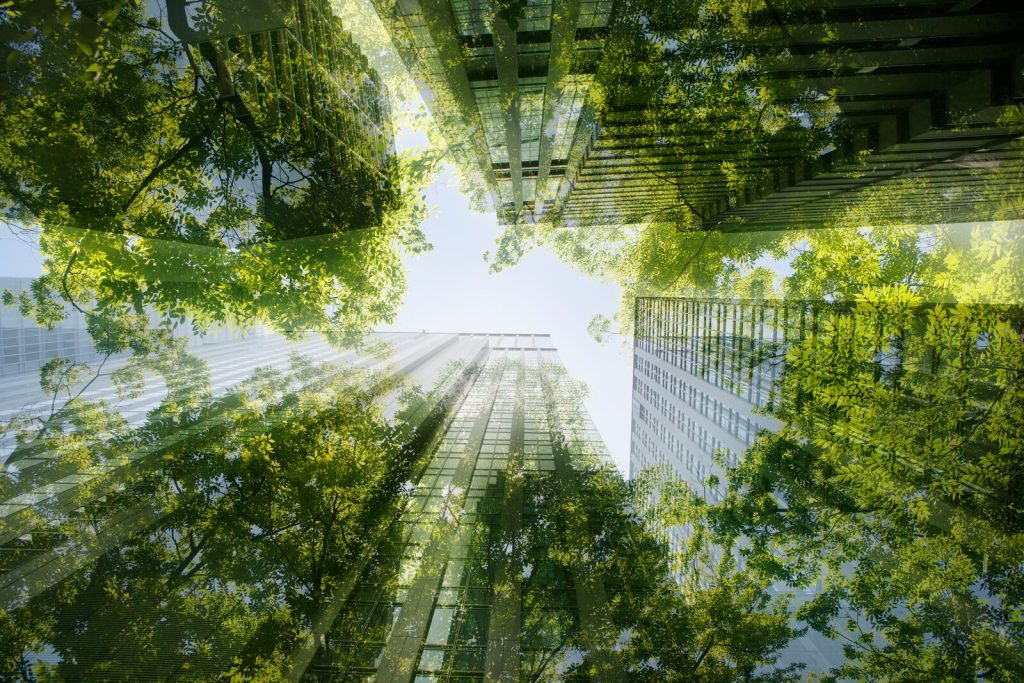 To build green buildings, there are some ways and strategies to achieve eco-friendly construction. The following are a few techniques that construction companies can use to reduce their impact on the environment: 
Improving overall health and safety by using eco-friendly products such as nontoxic paints, solvents, and adhesives, and considering nontoxic building materials; 

Using locally sourced and alternative materials like bamboo, cork for linoleum, fly ash that can be used as filler in cement and concrete, and recycling vinyl and PVC plastics in flooring;

Using renewable energy like solar power, wind power, and geothermal energy; 

Incorporating green space areas like indoor gardens, planting areas, and even trees to produce the right amount of oxygen and at the same time, it absorbs carbon dioxide. Mixed-use areas are also helpful in sustaining the local ecosystem as well as promoting the benefits of fitness in the community. Examples are multipurpose areas that contain office buildings, green parks, tree lanes, and bike paths; and lastly;

Using environmentally friendly equipment-friendly equipment. Tons of carbon emissions and gallons of fuel can be consumed by construction equipment. However, using environmentally friendly equipment can lessen these negative effects on the environment. Find equipment with low emissions and fuel consumption, or hire machinery that can run on renewables or sustainable oil.
The use of eco-friendly equipment will add up to the fixtures of construction. For example is the equipment with electric drives, in which the engine uses a generator to convert mechanical power into electricity. It also increases power in all building conditions and enables receiving a response from the machinery. Engine durability increases and fuel consumption decreases. Additionally, hybrid or electric vehicles work more quietly, which minimizes the noise pollution caused by construction activities.
Internet of things (IoT) devices that have smart sensors monitor the construction site environment and the progress in real-time when construction sites with less waste are more environmentally friendly, and regular monitoring also increases worker safety. 
What are Electric Construction Mac
hines?
With that, electrifying machinery enters the industry. Heavy machinery like excavators and cranes are part of a new type of electric construction equipment that plugs in for greener job sites. Electric Consumption Machines are sustainable, but they're also sometimes expensive. The industry can gain from shifting away from equipment that is fueled by fossil fuels in a number of ways. Due to the fact that they have fewer components, electric devices require less maintenance. They also have a longer expected longevity than machinery powered by diesel. The adoption of electric equipment by many construction businesses is likely if it is competitive with current diesel options.
In 2020, with working costs decreased by 90%, Case developed an electric backhoe. It has a battery with a 90-kilowatt-hour capacity and is just as effective as diesel models. On a construction site, the machine helps with transportation of materials and digging. Throughout an eight-hour shift, its huge lithium-ion battery is fully charged. Additionally, when in operation, it produces no emissions.
Heavy objects may now be moved in and out of racking using an electronic forklift created by construction industry major Caterpillar. Also, they move building materials on-site. When in use, electric versions emit no greenhouse gasses, increasing the sustainability of a project.
On the other hand, Bobcat released electric mini-excavators, a different type of equipment. The device has enough energy to run for a whole eight-hour shift.  In less than two hours, construction workers can charge 80% of their lithium-ion batteries. 
In 2020, The Hong Kong Science Park was built by Gammon Construction, one of the company's first projects using only electric construction machinery. This battery-operated crane served as a model for the coming transition to fully electric building sites at the Gammon Construction work site. In order to prevent breaking the line, most operators use dirty diesel generators on-site to supply the electricity that electric heavy-duty equipment normally needs. However, in this instance, the crane and other on-site machines were fueled by massive camper-sized lithium-ion batteries called Enertainers, demonstrating that there is an alternative to the typical on-site construction emissions.
What is the Relationship between Green Building and Electric Construction Machines?
With all these modernizations and shifting to a new and efficient way in the construction sites, where does green building lie?
Sustainable solutions were created after environmental experts reviewed the pollution problems facing the construction industry. In terms of performance, many of these machines are competitive with their diesel equivalents, and technology is continually improving. 28% of the contributors in the greenhouse gasses are the construction industry and utilizing Electric Construction Machine lessens the use of greenhouse emissions in large construction sites. Manufacturers and corporations should invest in thorough research on how to improve the infrastructure through green building. Shifting from oil engines to energy-efficient and electric equipment is a challenge as this equipment is necessary in building homes, roads, and establishment, however, moving to electric solutions can significantly reduce emissions from the construction industry and improve the global environment.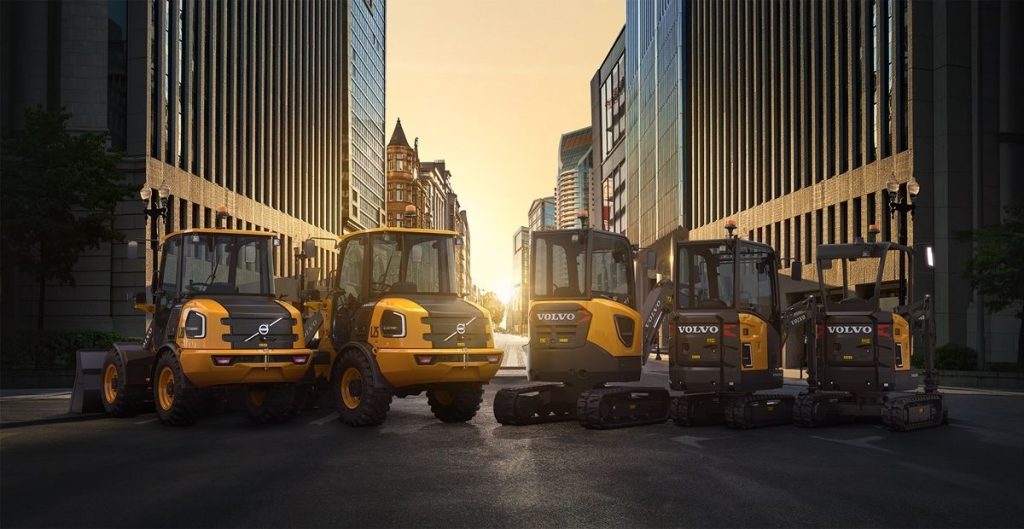 Do you want to see more content like this in the future? Subscribe to Pinoy Builders for FREE today and stay in the loop for the latest news and updates on the Philippine construction industry!
Sources:
Camberato, J. (2019, October 2). Eco-Friendly Construction Equipment: Can It Save Your Bottom Line? National Business Capital. https://www.nationalbusinesscapital.com/blog/eco-friendly-construction-equipment-save-bottom-line/

CONEXPO-CON/AGG. (2018, January 15). Sustainable Technology on Construction Equipment. Conexpoconagg; CONEXPO-CON/AGG. https://www.conexpoconagg.com/news/sustainable-technology-on-construction-equipment

Guide for Implementing Environmentally Friendly Construction Strategies. (n.d.). CatRentalStore. https://www.catrentalstore.com/en_US/blog/environmentally-friendly-construction.html

Long, E. (2022, January 12). The Construction Industry Dreams of Electric Machines. Intelligent Living. https://www.intelligentliving.co/construction-industry-dreams-of-electric-machines/

Sisson, P. (2022, January 4). Switching on Electric Construction Equipment Can Make Jobsites Greener. Redshift.autodesk.com. https://redshift.autodesk.com/articles/electric-construction-equipment