Whether in furniture, motifs, walls, or both interior and exterior, wood is always a complimenting element in design – its rigidness, stability, and overall effect on the aesthetics help it blend vision altogether. The lightness of the material has been in household construction for years, not to mention its wide selection of tones, variety, and designs, making your home more natural and homey. Wood also is easy to manufacture and strengthens over time.
Here's how you can incorporate wood, a timeless material, into your interiors.
6 Ways to Incorporate Wood in Your Interiors
Wood ceiling
In older houses, wood ceilings support the home's upper deck; it adds stability and rigidness to the structure. Today, concrete ceilings are furnished with wood elements to make them classier, slick, and aesthetically effortless. Wood ceilings can also make a room feel warm and inviting. Wood, whether used in a flat or cathedral ceiling, makes a statement in any room.
You can add accents on the beams of the house, ensuring structural support to the building. According to Lucy Searle, editor-in-chief of Homes & Gardens, many classical interiors have exposed wooden beams, which add beautiful rustic character and texture to the ceiling while also embodying a unique, historic charm that highlights the original construction.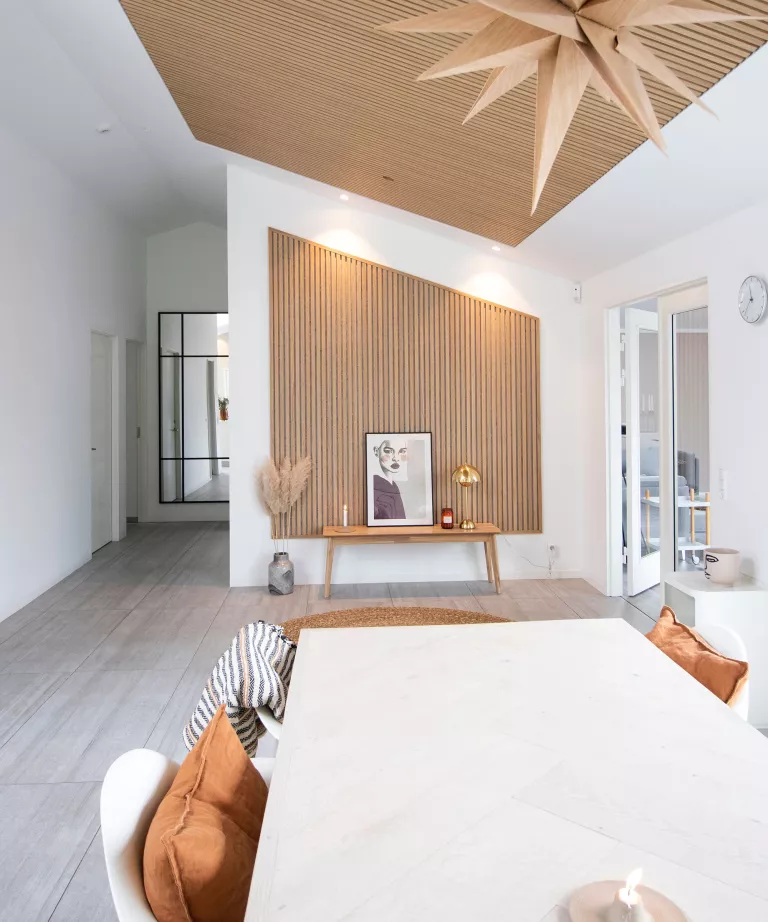 The panel does not only work one wall; it could extend itself up to the ceiling, complimenting elements of the home. It adds style and a modern design to the house, accentuating the material's versatility. These wooden panels add beautiful texture to the minimalist interior, looking great on the walls and ceiling and keeping practicality and sound quality in mind.
Wooden Furniture
With the material's versatility, wood can fit in almost any design motif in the place's interior – one way to incorporate this is by the furniture we add to the area. The wood finish can be included in your checklist, from the dining table as the center accent of the home to chairs, cabinets, and drawers. Not to mention there is an excellent chance that these items are already made of wood; you just need to find furniture that would complement the mood and tone of the room.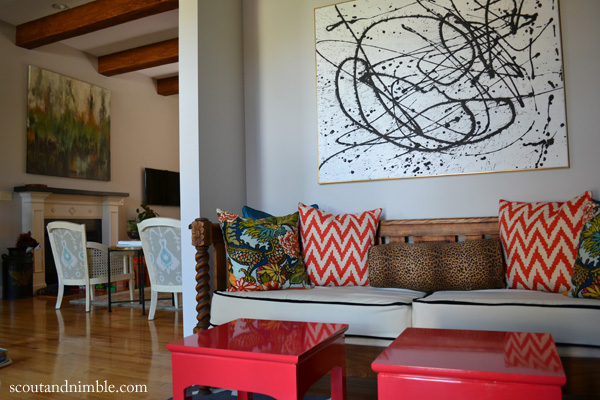 Walnut, White oak, and cherry are suited for warm tone aesthetics that naturally compliments the place; Maple wood and most of the wood finishes with charcoal, bark, and sand stain compliments more relaxed tone aesthetics, making the room lighter, more modern but with the undertone of homeyness of the material. Natural wood furniture does not have to be limited to the dining room; dressers and sideboards for the living room, solid wood beds and wardrobes in the bedrooms, and even wooden bath panels and accessories in the bathroom can all contribute to a home's coziness.
Wood Floors
Most Filipino households with antique or older houses are supported with hardwood floors – not only that it is stylish, classic, and elegant looking, but it is also a true test that sound quality will last a lifetime. The material's variety of styles will elevate your home's overall mood.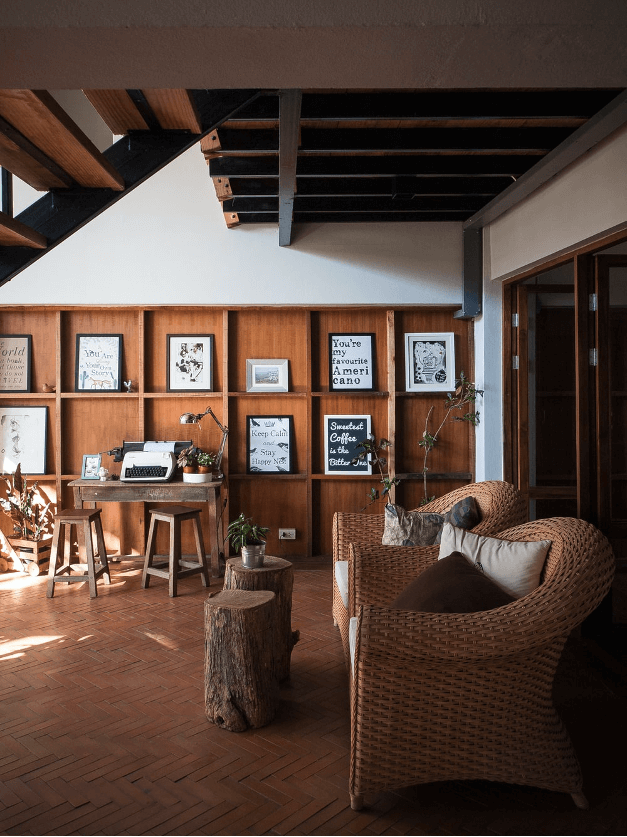 When it comes to color, dark wood floors such as oak, maple, walnut, and hickory help to keep a room feeling cozy, whereas lighter stains can help to make a small room feel larger and brighter, the planks are available in a variety of thicknesses, lengths, and widths. With its versatility, you can adjust your budget by incorporating wood into your home; for practicality, you could use vinyl tiles with a wood finish or artificially made wood floors which can compete with the real ones in terms of rigidness. But take good note of using hardwood in incorporating on floors; it is a high maintenance material, weak in moisture and humidity, which is particular in our country, not to mention costly.
Wood Paneling
Wood paneling is often deemed old-fashioned, dating back to the earlier homes in the 60s, but it made a comeback for a more stylish look and design. It's easy to install and adds an element of classic style to the structure. It is not limited to country or cabin-style homes but incorporating it adds a new accent to the wall.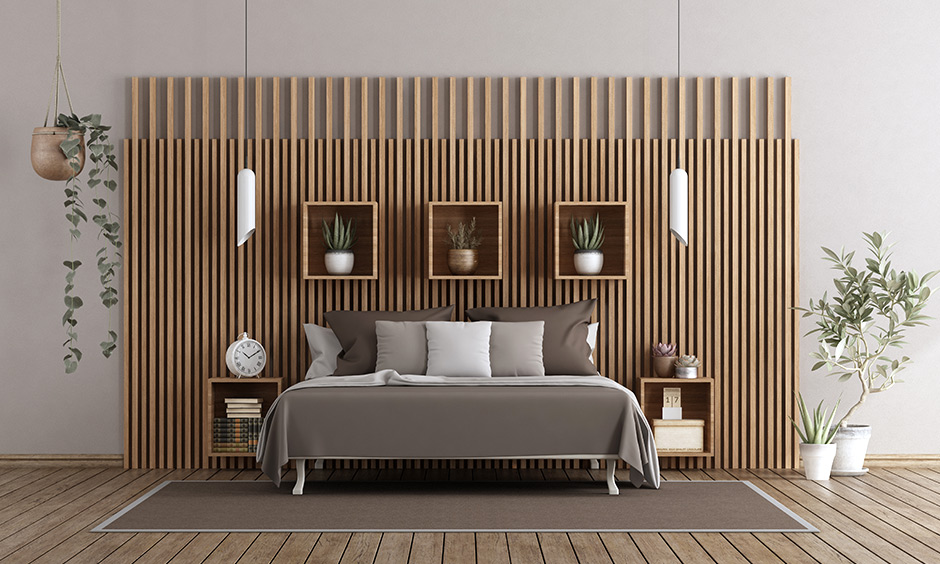 Wall paneling masters texture and design; it could be done within the lower section of the wall, a headboard at the back of the bed, and even at the kitchen sides. The rule is to add style and visual interest to the empty walls, with many modern designs beautifully celebrating the versatility of wood. In addition, techniques such as diagonal, horizontal, or shaped wood panels add character to the aesthetics. 
Wooden Beds
The simplest way to incorporate wood into your home is to give yourself and your loved ones wooden beds. Wooden beds are available in a variety of styles. It is the centerpiece of your bedroom and needs to be sturdy, cozy, and comfortable because you'll be dwelling on it for most of your sleep. Wooden bed frames could come in different styles, four poster beds for a more elegant and extravagant take on the bed, trundle bed, and storage bed for practical use, but the essential thing to consider is its rigidness to hold the people who were sleeping and to last for a long time. 
Unlike floors and staircases, Beds can sometimes be made of softwood because intricate patterns can be created more efficiently for added design and aesthetics. Softwood beds, on the other hand, are not always brittle. Maple and mahogany are two popular softwoods for making elaborate beds. 
Wooden Doors
Another centerpiece to consider could be the entrance of your home; the eyes start at the beginning, and why not make your front door wooden to set the tone right outside the house immediately? Unless you are using glass as the material for your entrance, the door is usually made of wood, just like most of the furniture – to keep everything in harmony and tone, wood style and color should complement other materials inside. Some homemakers choose to paint their doors, while others let the stunning wooden structure show through.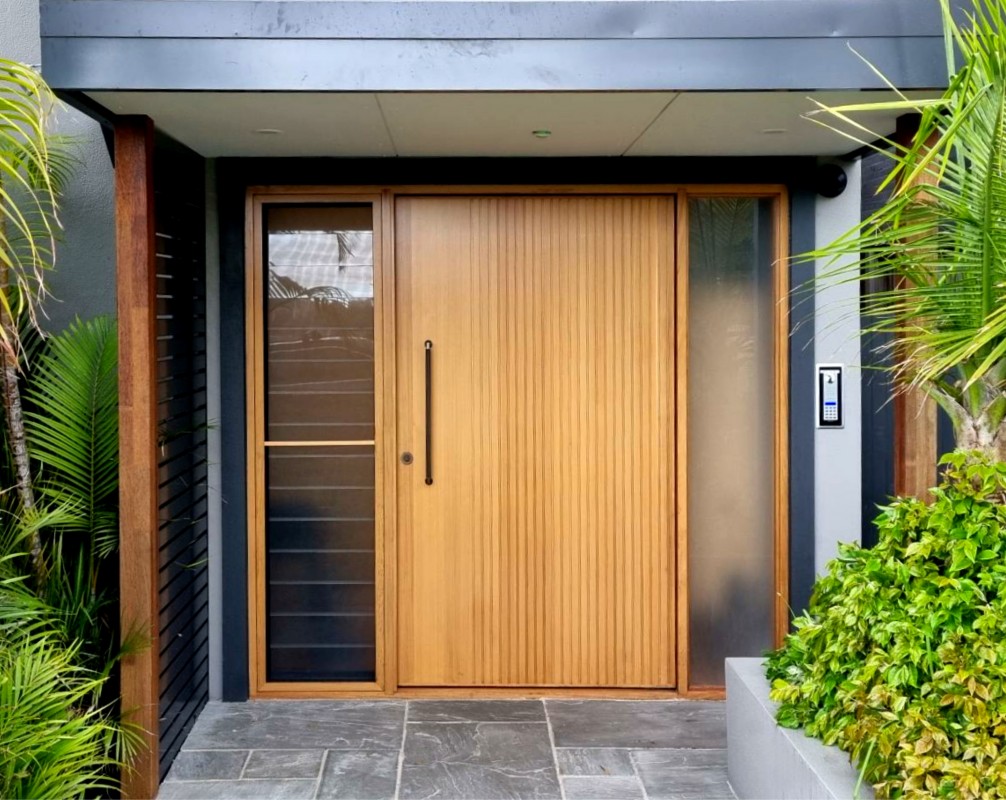 A front door made of beautifully crafted and long-lasting wood will leave an indelible impression on every visitor. Wood doors are a distinctive and decorative opportunity for your home. They can be a centerpiece in a room and can be customized to match your home's style. Not only through design but also adds security as well. Hardwood is most appropriate in making the front door; coating it with varnish or other wood finishes will help it retain its beauty and aesthetic more. 
4 Tips to Foolproof Wood Design
Wood is not the cheapest material in the stores, although varying in prices in terms of size, strength, and quality, a good wood material that will last a long time will cost as much. But adding wood to your interior aesthetics does not have to be expensive; the key is creativity, imagination, and innovation! Here are some types to incorporate wood design into your home.
Add Organic Elements
Wood speaks to nature, calmness, and coziness. We could add wood tones by adding earth elements such as organic plants and greenery. You could add decorative objects that match wood tones, such as brown, black, and even white vases. A simple potted plant inside the living area could add an accent of nature and coziness, not to mention additional oxygen in the room. In addition to spicing up the wall, hanging plants are easy to maintain and bring an organic mood to the room.
Mix Wood Tones
The mood and motif of the home are essential; sometimes, homemakers tend to stick to one motif that looks more monotonous in the eyes and blander than they would expect. Experimentation with textures and mix-matching will help to incorporate different types of woods in your home decor. From the warm mahogany on furniture to the soft tone of stained maple floorings, this contrast in color will surely make your room pop up, adding taste to the design. Make a dark walnut table stand out, for example, by pairing it with chairs in a different wood tone. To master these complementing colors, match the undertones of your furniture or walls to your floors to make them look cohesive and pleasing to the eyes; this includes the finishes of the wood and the material it needs to complement. 
Select a Statement Piece
But adding too much wood tone will be a disaster; you as a homemaker need to find the perfect spot to complement wood tones without overpowering your house with wood materials; one way to do it is to have a centerpiece made out of wood. It could be a large table, a sculpture, a stand, or a cabinet for practicality – this needs to be the room's focal point, and adding a single decor completes the whole look. Less is more; with only one dominant piece, it will be easier to choose accents for the rest of the space. The statement piece also needs to complement the other elements in the room; the contrast is the best way to make your piece stand out. A smooth finished stained maple wood floor could contrast with a wood bark sculpture in mahogany with a darker tone at the corner of the living room.
Don't Go Overboard
The least thing we need to worry about is going too much with the wood accent and design. Wood is a vital element and material and needs to be balanced, especially at home; it needs to be practical and aesthetically pleasing to the eyes. 
Your home reflects who you are; what you put in the design will affect how you live. Adding wood elements at home is an excellent decision to ensure stability, safety, mood setting, and quality, making your home built to last for a lifetime.
Sources:
4 Tips for Incorporating Wood into Your Home's Interior Design – Better HouseKeeper

. (2020, June 16). Better Housekeeping. https://betterhousekeeper.com/2020/06/16/4-tips-for-incorporating-wood-into-your-homes-interior-design/

4 Ways to Incorporate Natural Wood in your Interior Decor

. (2013, May 22). Carlisle Wide Plank Floors. https://wideplankflooring.com/blog/4-ways-to-incorporate-natural-wood-in-your-interior-decor/

8 ways to use wood in your interior

. (2016, July 27). DmLights Blog. https://www.dmlights.com/blog/8-ways-use-wood-interior/

Budget-Friendly Ways to Incorporate Wood into Your Interior | Home Design Ideas 2021

. (n.d.). Lessandra. Retrieved December 19, 2022, from https://lessandra.com.ph/blog/2021/06/09/wood-interior-design

Elko, K. (2013, October 5).

Eclectic House Tour – Colorful Decor

. Kelly Elko. https://www.kellyelko.com/eclectic-house-tour-colorful-decor/

Greenberg, S. (2019, October 11).

Types of Wood Flooring 101: Your Total Guide

. FlooringStores. https://www.flooringstores.com/blog/wood-flooring-types/

Pillai, S. (2022, June 21).

7 Ways to Incorporate Woods in your Home Interior Design

. De Panache Interiors. https://depanache.in/blog/how-to-incorporate-woods-in-your-home-interior-design/

RC, D. (2015, December).

6 amazing ways to incorporate wood into your interior design | homify

. Homify.sg. https://www.homify.sg/ideabooks/268266/6-amazing-ways-to-incorporate-wood-into-your-interior-design

Rennie, A. (2022, April 26).

8 Types of Wood Wall Paneling

. Family Handyman. https://www.familyhandyman.com/list/types-of-wood-wall-paneling/

Stacey, Z. (2022, July 20).

Wood ceiling ideas – 13 wood designs to transform your ceiling

. Homesandgardens.com. https://www.homesandgardens.com/interior-design/wood-ceiling-ideas