Great news for small scale contractors: small scale contractors can legitimize their operations through the "Pakyaw" Contractors License Application, under the Philippine Contractors Accreditation Board (PCAB).
In this article, we'll be looking through the requirements, processes, and the differences between the Paykaw license and the regular PCAB license.
What is the PCAB Pakyaw License?
According to the PCAB Board Resolution No. 123, Series of 2022, a PCAB Pakyaw License will allow or give small-scale contractors an avenue to legitimize their operations.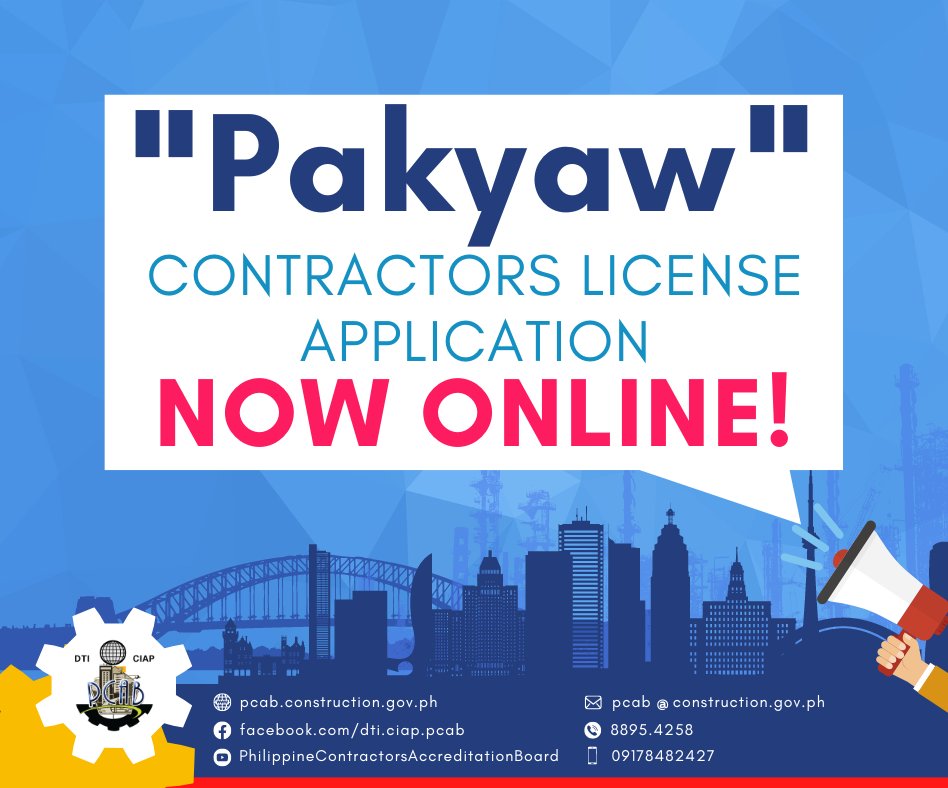 Previously, PCAB licenses only allowed large-scale contractors to be recognized by the organization. With the Pakyaw License, the PCAB now legally recognizes small-scale contractors and companies.
Pakyaw Contractors License: Application Requirements
The first step to getting your PCAB Pakyaw License is to gather the requirements and prepare the application fee of PHP 542.
The requirements are:
DTI Business Name Registration

Territorial Scope (City/Municipality)

Financial

Back Certificate OR Bank Statement showing a balance of at least PHP 20,000 (the date on the certificate/statement must be at least two weeks preceding the filing date)
Authority to Verify Documents with the Depository Bank

Authorized Managing Officer/Proprietor

They must be at least 18-years-old
They must have one National Certification (NC) 2 for a construction-related skill issued by TESDA (new applicants can skip this requirement but will be required to submit it upon renewal)
Certificate of Completion of One-day Entrepreneurial Course
Certificate of Completion of One-day Safety Seminar
READ MORE: PCAB License: Applying for a License in 2022
PCAB Pakyaw License Application: Process Flow
All applications are done online and are facilitated through pcab.construction.gov.ph or pcabgovph.com. Here is a quick rundown to help you familiarize yourself with the application process:
Complete the application requirements.
Use a VALID e-mail address and create an account at the PCAB Online Licensing Portal.
Accomplish the digital forms and upload your supporting documents.
Pay the application fee.
Submit the completed application.
Check the status of your application online through your account on the PCAB Online Licensing Portal.
Once approved, you can download and print your digital license from the PCAB Online Licensing Portal.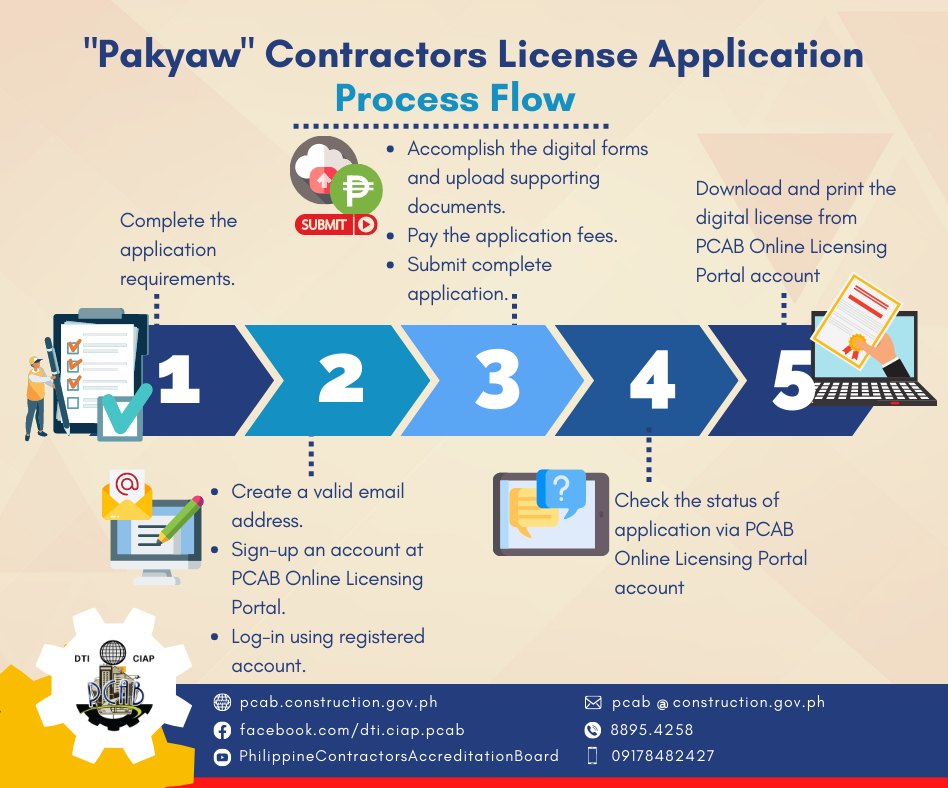 Pakyaw License VS Regular License: What is the Difference?
There are a few differences between the pakyaw and regular PCAB license. The license that you are going to apply for widely depends on the type of organization you have and your engagement. Only those with regular licenses can engage in private and government projects, while the pakyaw license is solely for private projects.
Apart from the engagement and necessary experience needed, here are other differences between the two licenses that you might want to keep in mind when you're ready to apply for a PCAB license:
PAKYAW
REGULAR

TYPE OF ORGANIZATION

Sole Proprietorship

Sole Proprietorship, Partnership, Corporation, OPC

BUSINESS NAME | REGISTRATION TERRITORIAL SCOPE

At least City or Municipality

National 

ENGAGEMENT 

Private Projects 

Private/Government Projects 

MINIMUM AGE REQUIREMENT FOR AUTHORIZED MANAGING OFFICER/PROPRIETOR 

18-years-old 

25-years-old (Category Trade-AAA); 35-years-old (Category AAAA) 

EXPERIENCE/SEMINAR 

At least one (1) National Certification (NC) 2 issued by TESDA in a construction-related skill;

Completion of 1-Day Entrepreneurial Course and 1-Day Safety Seminar 

Min. 2 years of Experience in a managerial or supervisory level; Completion of 2-Day AMO Seminar and pass the examination; Completion of 40-Hour Construction Safety and Health Seminar / 16-Hour Managerial Course 

MINIMUM NET WORTH / EQUITY REQUIREMENT 

PHP 20,000

PHP 100,000 to PHP 1 Billion

APPLICATION FEE 

PHP 542 

PHP 1,342 to PHP 158,542 

VALIDITY OF LICENSE (RA 11711)

One Year from First Issue Date 

RENEWAL OF LICENSE (RA 11711) 

Annual

Annual; 2 years; 3 years 

UPGRADING OF LICENSE

No Upgrading 

Can be upgraded to a higher category
Note that you can only have one license type. Because a proprietor can only represent one company at a time, they cannot apply for another license under a different type as long as their license is approved.
Before taking on a construction project, contractors must make sure that they have the license for it before starting the project. Having a PCAB license for a project means that the contractor is authorized by PCAB to operate and to render services to their clients. Clients must also be vigilant enough to check if their contractor has a license to settle all legalities prior to the start of a construction project.
Do you want to see more content like this in the future? Subscribe to Pinoy Builders for FREE today and stay in the loop for the latest news and updates on the Philippine construction industry!
Sources:
PCAB. (n.d.-b). Pcab.construction.gov.ph. https://pcab.construction.gov.ph
PCAB. (n.d.-a). Pcabgovph.com. https://pcabgovph.com
PCAB – Licensing Fee Structure | Construction Industry Authority of the Philippines. (n.d.). The Construction Industry Authority of the Philippines. http://construction.gov.ph/online_forms/pcab-licensing-fee-structure/
Jarviz. (2022, August 10). "Pakyaw" Newest Contractor's License. (TACS) Triple A. https://www.tripleaaaconsultancy.com/post/pakyaw-newest-contractor-s-license