Bus travel is one of the primary modes of transportation in the Philippines – especially in Metro Manila. Apart from jeepneys, trains, and taxis, many commuters opt to ride buses to help them get around Manila easier.
While it's not as convenient as a taxi, train, or a car-booking app, the great thing about buses is that they're almost everywhere and they travel through the region's major roads and highways. Despite not being the most punctual transportation option, it's still one of the most convenient ones as there are bus stops across Metro Manila.
In this article, we'll be taking a look at some of Metro Manila's bus transit systems, its routes, and special buses within the region.
Types of City Buses in Metro Manila
City buses in Metro Manila are usually run by private companies though some are affiliated with companies who serve in the provincial bus network. The routes within the Metro Manila bus transit system connects cities and allows commuters to easily go to and from destinations.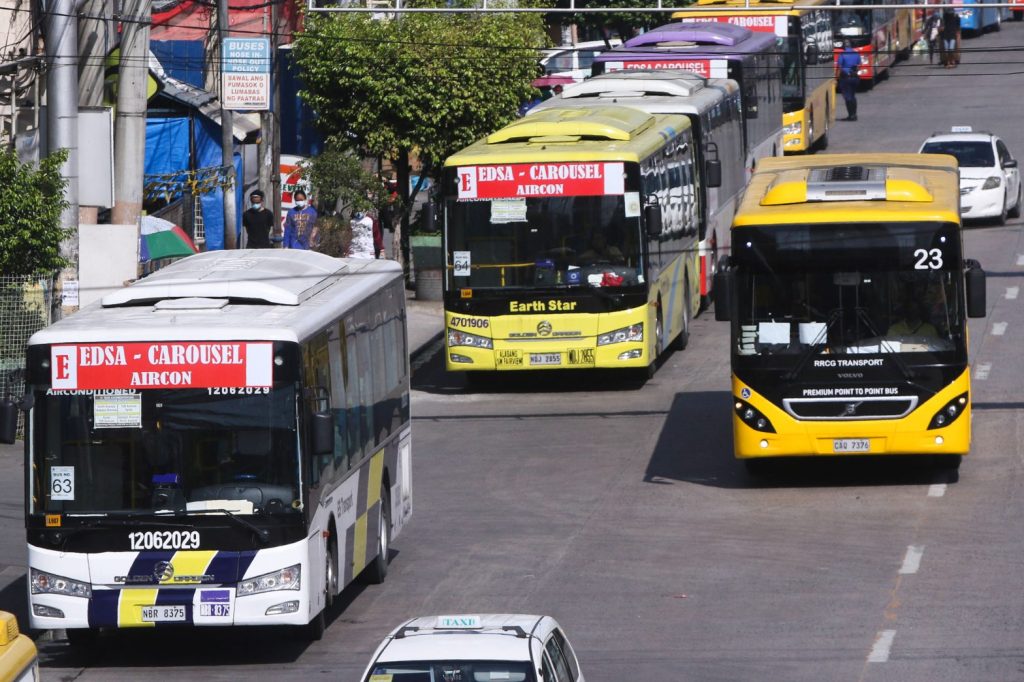 There are two types or classes of city buses in Metro Manila and they are as follows:
Air-conditioned buses – Usually has 2×3 or 2×2 seat layouts with 6 seats on the rearmost row
Ordinary buses – Usually has a 2×3 layout with 6 seats at the rearmost row.
Most of these buses operate long-distance but with a bit of subtle changes during rush hour. Regardless, most of these buses have frequent departures and run throughout the Metro.
Bus Transit System: Routes Across Metro Manila
As of October 2022, there are at at least 35 city bus routes that travel throughout the Metro. They are follows:
Portion of Route E (EDSA Carousel) EDSA BusWay
Route 1 Monumento–Balagtas
Route 2 Monument–PITX via R10
Route 3 Monumento–Valenzuela Gateway Complex via NLEX
Route 4 North EDSA–Fairview via Quirino Highway
Route 5 Quezon Avenue–Angat via Commonwealth
Route 6 Quezon Avenue–EDSA Taft (Manila)
Route 7 Quezon Avenue–Montalban (Rodriguez, Rizal)
Route 8 Cubao–Montalban (Rodriguez, Rizal)
Route 9 Cubao–Antipolo *to augment LRT-2
Route 10 Cubao–Doroteo Jose
Route 11 Gilmore–Taytay via Ortigas Ave. Ext.
Route 12 Pasig–Kalentong via Shaw Blvd.
Route 13 Buendia–BGC
Route 14 Ayala–Alabang
Route 15 Ayala–Biñan
Route 16 Ayala Ave–FTI
Route 17 Monumento–EDSA Taft *to augment LRT-1
Route 18 PITX–NAIA Loop
Route 19 North EDSA–BGC via Luzon Avenue, C5
Route 20 Monumento–Meycauayan via NLEX
Route 21 Monument–San Jose Del Monte via NLEX (Marilao Exit)
Route 22 Monumento–Angat via NLEX (Bocaue Exit)
Route 23 PITX–Sucat
Route 24 PITX–Alabang
Route 25 BGC–Alabang via SLEX, Bicutan, Sucat
Route 26 PITX–Naic via CAVITEX, Antero Soriano Hwy.
Route 27 PITX–Trece Martires
Route 28 PITX–Dasmariñas
Route 29 PITX–General Mariano Alvarez
Route 30 PITX–Cavite City
Route 31 PITX-Lawton
Route 32 North EDSA-Valenzuela Gateway Complex
Route 33 Ayala-SRIT
Route 34 PITX-SRIT
Route 35 Ayala-Balibago
A more detailed view of the routes can be seen in the infographic below: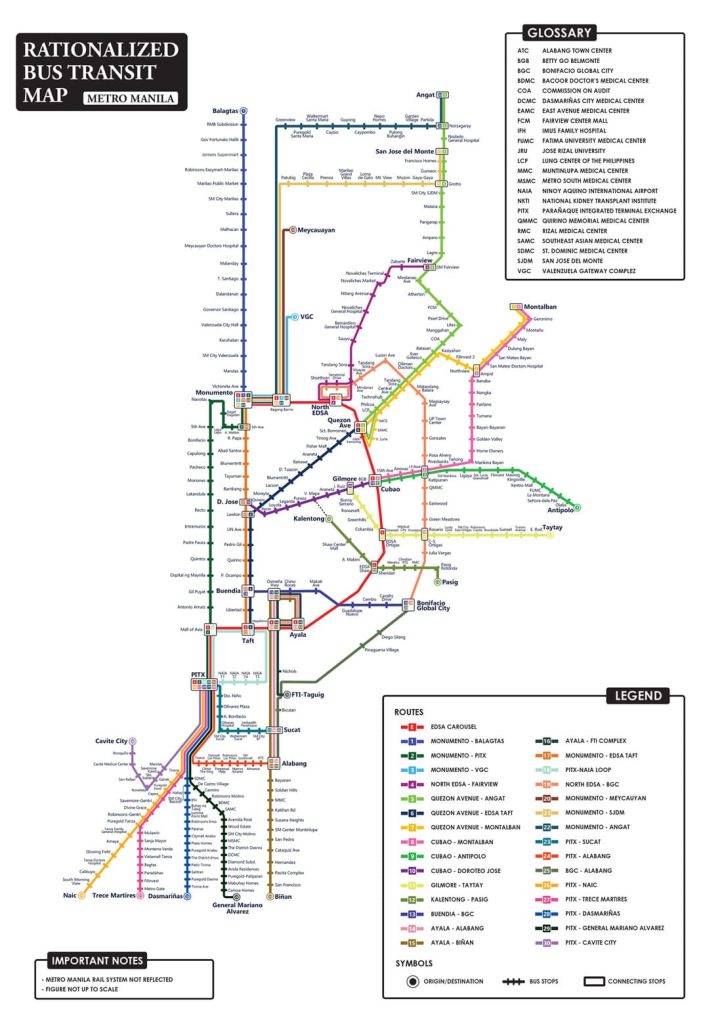 Premium and Special Buses in Metro Manila
Apart from city buses, there are also buses within cities that host specific routes for commuters who need to get from point-to-point. Compared to regular city buses, these buses do not deter from their specific routes.
Point-to-Point (P2P) Buses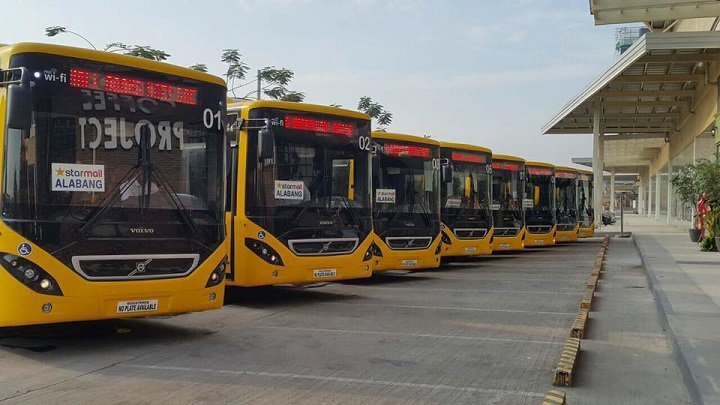 P2P buses are express buses that, as its name implies, takes passengers from one point to the other with no stopovers. These buses will not stop at any station along the way to pick up passengers. They have designated pick-up and drop-off points that are usually found within central business districts including Makati, Ortigas, and Quezon City. There are also P2P buses that take passengers to the surrounding provinces of Cavite, Laguna and Batangas though they have specific time slots. The Ube Express bus is also a P2P bus that takes passengers to and from the airport to Cubao, Manila, Laguna, Pasay, and Alabang.
BGC Bus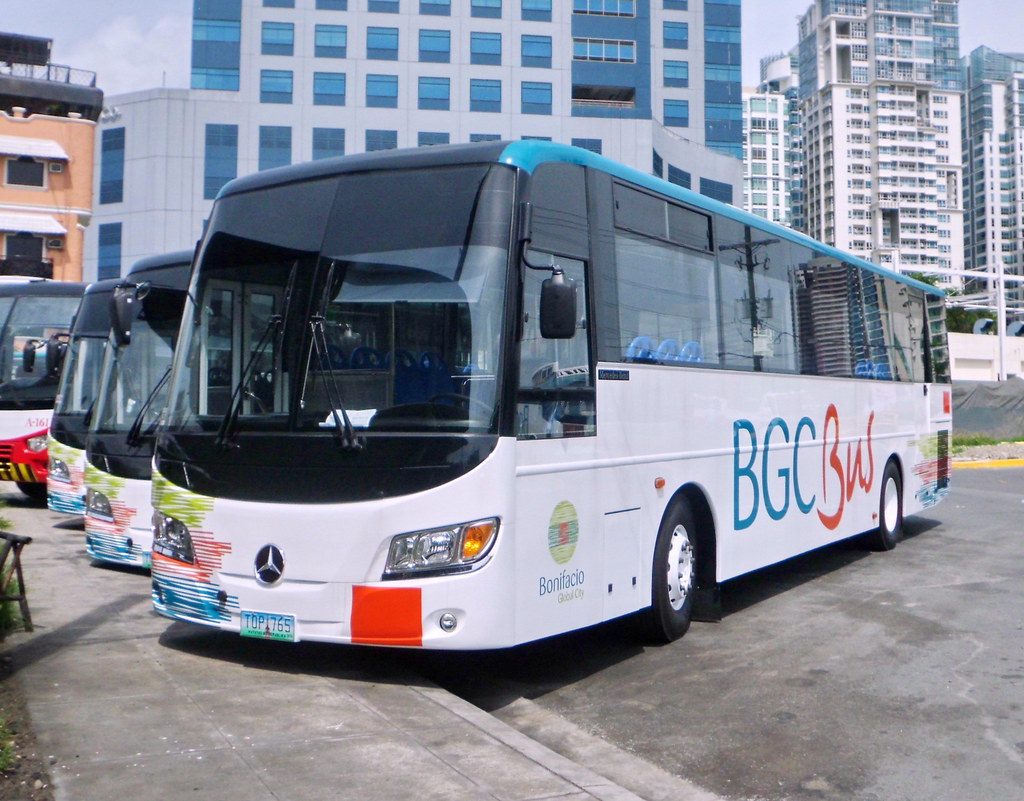 The BGC Bus is a line that travels within the vicinity of Bonifacio Global City (BGC), Makati City, and some parts of Taguig (Arca South). They mostly cater to passengers who work in Makati and in the BGC area. BGC buses operate on dedicated routes namely:
Central Route – Travels within BGC only
East Route – Travels from Market! Market! to EDSA Ayala
North Route – Travels from EDSA Ayala to HSBC, BGC Turf, Avida 34th, Uptown Mall, Globe Tower, and the BGC Arts Center
West Route – Travels from EDSA Ayala to Mckinley Parkway, The Fort Station, Net One, Bonifacio Stopover, Crescent Park West, and Fort Victoria
Weekend Route – Travels from EDSA Ayala to McKinley Parkway, The Fort Station, Net One, Bonifacio Stopover, The Globe Tower, One Parkade, University Parkway, Market! Market!, Crescent Park West, and Fort Victoria
Arca South – Travels from Arca South to Nutriasia, Market! Market!, The Fort Station, Net One, Bonifacio Stopover, Crescent Park, HSBC, The Globe Tower, One Parkade, and University Parkway
Ayala Express – Travels from EDSA Ayala to the Ritz Tower, MSE, PBCom, RCBC Plaza, The Columns, City Gate, Security Bank, SGV Building, and Glorietta 5
Bus Rapid Transit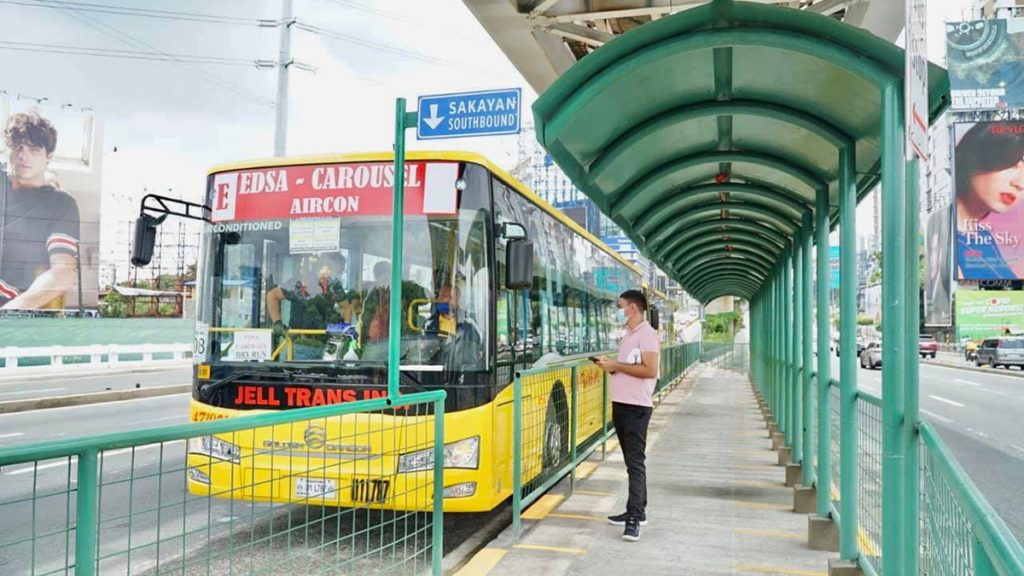 The EDSA Carousel is the country's first bus rapid transit that runs throughout the entirety of EDSA from the Bonifacio Monument in Caloocan City to SM Mall of Asia in Pasay, and into the Parañaque Integrated Terminal Exchange (PITX). This is one of the most convenient ways to travel through EDSA without having to worry about getting lost in the process and this bus line will only travel through the northern point of EDSA down to the South.
The bus transit system in Metro Manila might take a while to get used to – especially if you aren't a frequent commuter but it's easy enough to get a grasp of when you know where you're headed. It would also help to familiarize yourself with your destination as it would be easier to conclude which bus to take.
While it's not the fastest, the addition of the EDSA Carousel and P2P buses help commuters to reach destinations faster as they don't have to sit through a journey with multiple stops. To date, buses remain as one of the country's primary modes of transportation and the government is continuously finding ways to make the bus transit system more convenient for passengers and the drivers alike.
Do you want to see more content like this in the future? Subscribe to Pinoy Builders for FREE today and stay in the loop for the latest news and updates on the Philippine construction industry!
Sources:
2022 METRO MANILA CITY BUS GUIDE: List of Routes, Schedules & Fares (EDSA Carousel, PITX, Monumento, VCG, Alabang, SRIT). (2022, June 7). It's More Fun with Juan. https://www.morefunwithjuan.com/2022/06/bus-routes-in-metro-manila.html
Metro Manila Bus Transit Map | Metro Manila Bus Routes | Public Transport | Philippines. (2022, February 12). PHTravel Philippines. https://www.phbus.com/blog/metro-manila-bus-transit-map-metro-manila-bus-routes-public-transport-philippines/
Safe & Cheap Transport in the Philippines: Tips for Travelers. (n.d.). Www.worldnomads.com. https://www.worldnomads.com/explore/southeast-asia/philippines/safe-transport-options
Isla, R. (n.d.). BGC Bus Route and Schedule Guide for Commuters. Www.moneymax.ph. https://www.moneymax.ph/lifestyle/articles/bgc-bus-route-guide