Planning to travel to Siargao soon? The country's surfing paradise will have a more convenient travel experience!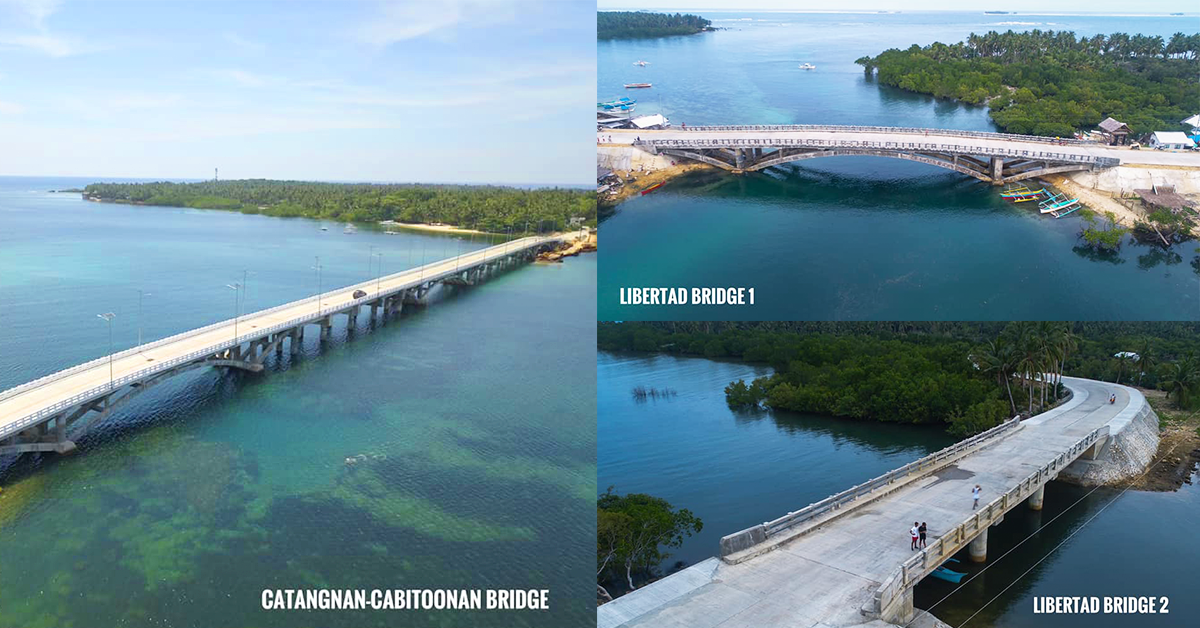 Tourism in Siargao Island will be boosted by improved infrastructure delivered by the Department of Public Works and Highways (DPWH). Last November 6, President Rodrigo Duterte inaugurated the iconic three-Point bridge system in Siargao Island, Surigao Del Norte.
In total, three bridges make up the system: Catangnan-Baitoonan, 75.8m Libertad, and 36.8m Libertad Bridge 2. This network of bridges connects General Luna, dubbed as the surfing capital of the country,  to the cities of Sta. Cruz, Sta. Fe, Libertad, and Catangnan.
The Catangnan-Cabitoonan Bridge, according to the Department of Public Works and Highways (DPWH), is aesthetically planned and constructed on a new alternate route from Dapa Port.  This bridge also provides stunning sunset views, and it is expected to draw more tourists to Siargao Island.
RELATED: Mindanao Railway to Cut Travel Time From 3.5 to 1.3 hours, Serve 130k Riders
Photo Courtesy: DPWH/Facebook
RELATED: Here's What We Know About Cebu-Cordova Bridge, Soon-to-be the Longest Bridge in the Philippines
Siargao Travel Requirements
Getting excited about going on a trip to Siargao? Let's dive into it!
Undeniably one of the Philippines' most popular tourist spots, Siargao is a teardrop-shaped island in the province of Surigao del Norte. Surfers, backpackers, and any other type of traveler will find it a haven here.
If you're planning a trip to Siargao soon, here are some things to keep in mind.
Residents of Surigao del Norte who travel to this province no longer need to produce a negative swab/saliva RT-PCR test if they have a COVID-19 domestic vaccination card (duly issued by a legitimate vaccinating establishment).
For government Authorized Persons Outside Residence (APOR), non-resident Private APOR, and tourists, negative swab/saliva RT-PCR test taken within 48 hours from the date of release of the result is still needed.

However, for walk-in tourists, you may be needing a confirmed booking of accommodation for at least two (2) nights from the resort or hotel duly accredited by the Department of Tourism.
Last November 8, the local government of Siargao announced that they are now considering relaxing travel rules in the surf capital, such as lifting the negative swab test requirement for travelers.
YOU MIGHT ALSO BE INTERESTED: Is Dolomite Sand an Effective Beach Nourishment in Manila Bay?
CITATIONS: 
PRRD Inaugurates Iconic Three-Point Bridge System, Sports and Tourism Complex in Siargao Island. (2021, November 6). Department of Public Works and Highways. Retrieved November 12, 2021, from https://www.dpwh.gov.ph/dpwh/news/24557
EO No. 21–037, Series of 2021 *Surigao del Norte residents traveling to this Province are no longer required to present. (2021, November 10). [Facebook status update]. Facebook. https://www.facebook.com/permalink.php?story_fbid=842293566447486&id=125025018174348