Minimalist and smaller home design is becoming a trend today, with the latter entailing a small space for the bathroom as well. Having small bathrooms might be hard to remodel due to having limited space, but who said you can't go all out on design?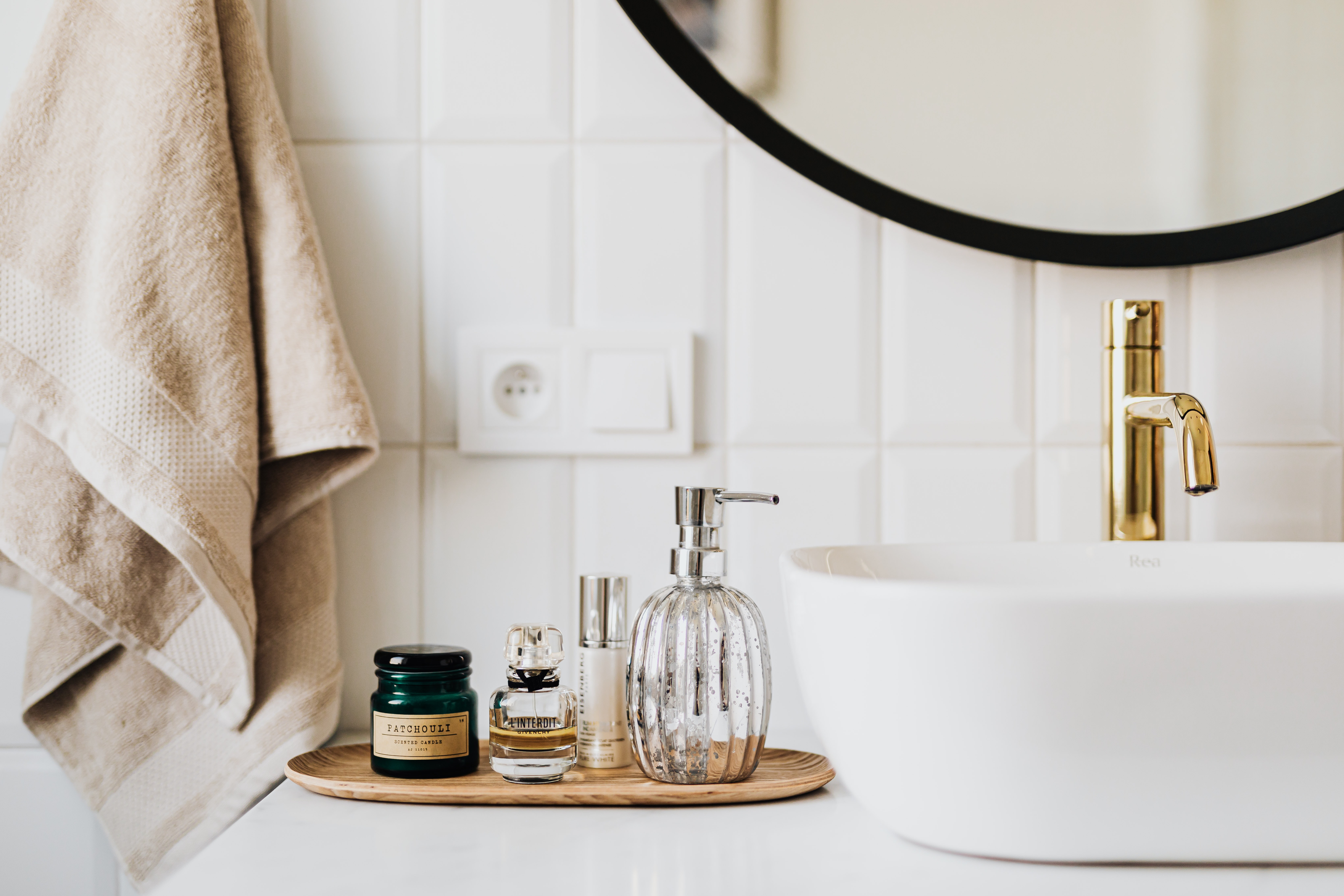 If you are looking for small bathroom ideas to enhance your space, then we've got you covered! Working with a small bathroom means you have to be more strategic when designing it. Make the most out of your tiny space with these amazing bathroom ideas and designs you can apply to your bathroom!
1. Go for light and neutral colors.
Neutral colors are a timeless option to instantly brighten your small bathroom. Neutral doesn't necessarily mean only white: it could be shades of nudes, pale grey, or blush. A neutral tone makes space appear bigger than if you use darker colors.
2. Go for glass.
The use of glass gives continuity to the space and keeps a full view of your room for a spacious feel. It will also reduce visual clutter and allow light to easily flow and reach every corner of the room, giving it the illusion of more space. Plus, it's not only practical but also gives a luxurious vibe to your small bathroom.

3. Shelving matters.
Your small bathroom definitely cannot afford to be cluttered. Since we lack space for large storage, opt for shelves with sleek designs and could also serve as an accent piece to your bathroom.
4. A large mirror works like magic.
Just like in any small house design, it's best to have mirrors as part of your small bathroom design. Mirrors create the illusion of more space. Having a floor-to-ceiling mirror for your wall is the best choice. 
5. Keep it neat with storage niches.
Instead of having cabinets protruding out of the wall, consider having a built-in niche into your walls. This storage area is tucked away or created inwards so they do not intrude on already tiny space. 

6. Add plants.
Indoor plants aren't just for the living room and bedroom, they could also work well in small bathrooms. Plants establish a natural focal point. You can choose long-hanging plants so they'll draw attention upwards. Also, having a touch of nature in your small bathroom energizes the space.
7. Let there be light!
You're fortunate if you have a window in your bathroom. Natural light makes space appear bigger. If you don't have one in your bathroom, add as much artificial light as you can, and be sure to let the light shine. You can go for brighter or bigger light fixtures for that.
8. The right tile size is important.
Take note that having small or medium tiles requires a lot of grouting, meaning, it will make the bathroom feel smaller. So, opt for big tiles that will fit in your space and you'll not need any grouting.
9. Cut down on the furniture.
Think minimalist. Reduce your furniture as much as possible. More cabinets mean more occupied space and less space to move around. 
Ditch the protruding handles of your cabinets and go for streamlined drawers or cabinets with a lip or pull of the same material. Try also having a floating vanity that won't take up more physical space; stylish but still clever.
10. Try an accent wall.
An accent wall adds character and definition to a neutral space. It will serve as a focal point and switch the attention from its size.