Waterproofing is one of the most crucial yet overlooked concerns, because of the lack of exposure to concrete technology. Rather than being taken seriously, some people frequently view it as only an inconvenience. Ignoring it, however, will just worsen the problem and make your property look like a swamp in the long run.
Internal and external building structures, including toilets, swimming pools, water tanks, walls, and ceilings, are all examples of buildings that need to be waterproofed. This forms a barrier that keeps water from passing through the material, preventing flooding and moisture in the building.
Why is Waterproofing Important?
Here are four significant reasons to waterproof your property:
It protects interiors from water damage.

Waterproofing your home prevents seepage through the walls. It will help to prevent water damage, giving your newly constructed structure a healthy, solid start.

It prevents the onset of health issues.

Mold and mildew form when moisture penetrates your walls and ceilings. This produces spores, which cause plenty of health issues. Spores get released into the air, and when you breathe in, they immediately travel to your lungs, posing a health risk. It's always ideal to have your home waterproofed at the right time to protect you and your family from such unanticipated health issues.

It saves your money.

While waterproofing your home can appear to be a daunting task, the cost of the process can also appear to be a financial blow. Prevention, however, is always better than a cure. It's best to think of it as a long-term investment that pays out over the life of the structure.

It promotes long-term comfort.

Waterproofing helps in the early sealing of a new construction site, shown to improve long-term comfort. The steps are taken to help in the reduction of moisture in the building's interior. It improves the living environment while also laying the groundwork for future improvements.
Approaches of Waterproofing
Below Grade Waterproofing
It prevents surface and groundwater or water under hydrostatic pressure from entering a structure or its components. Below grade waterproofing adds waterproofing membranes and coatings to the foundation walls of a building that is below street or ground level. It can also be called basement waterproofing or below-ground waterproofing.
Above Grade Waterproofing
Above-grade waterproofing is the prevention of water intrusion into exposed elements of a structure or its components. These materials are exposed to detrimental weathering effects, such as rain, wind, and ultraviolet light.
Cement-based Waterproofing
Cement waterproofing is a cement-based product that is used to protect structures. It functions as a membrane when combined and applied, preventing water movement.
Flexible waterproof is a two-part functional water-based waterproof coating made of an environmentally friendly modified polymer emulsion, high-quality cement, and a variety of functional additives. Flexible waterproof refers to the waterproof layer generated by coating on a waterproof surface.
It is a layer of material that prevents the passage of water.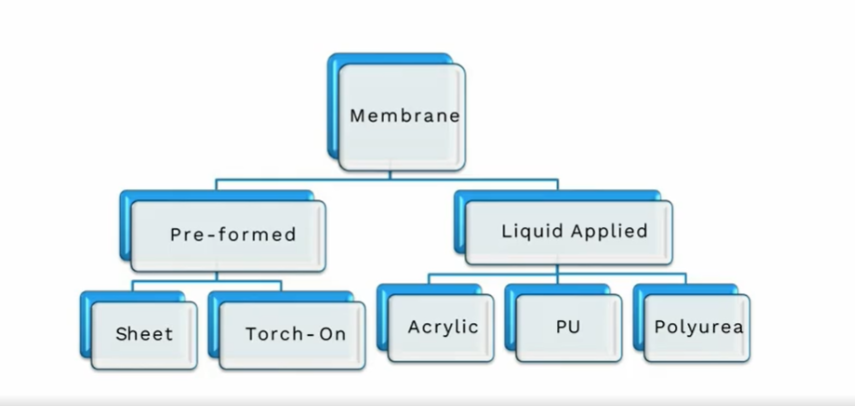 Bostik Waterproofing Innovations
Fortunately, Bostik has a comprehensive line of waterproofing and crack isolation products suitable for every type of waterproofing needs. Make sure Bostik waterproofing systems are properly installed on your next project. Their waterproofing technologies ensure that undesired water does not enter your structure.
ADDMIX PROTECT 
It's a concrete-specific, integral waterproofing solution. It's also a smart option to waterproof your home.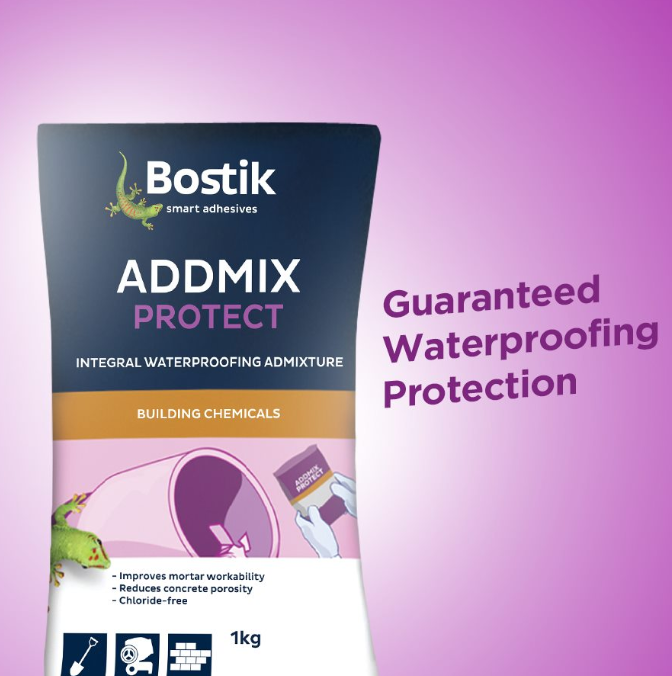 BOSCOSEAL SLURRY
It is a Rigid Cementitious Waterproofing for Below Grade Areas. BOSCOSEAL SLURRY is a rigid two-component alkali reactive polymer-modified waterproofing, ideal for a below-grade application where there is a presence of hydrostatic pressure.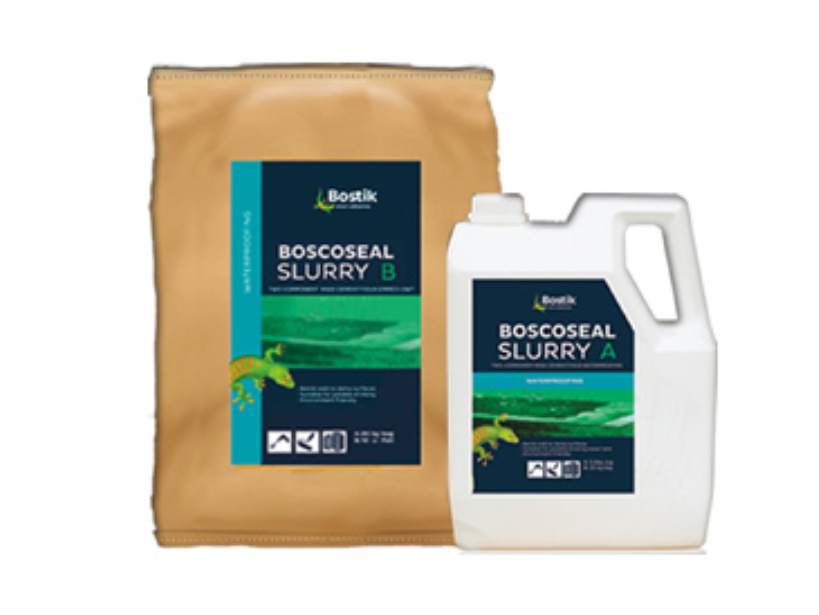 Its features and benefits are:
It can be tiled over.

It protects concrete against carbonation.

It bonds well to damp surfaces.

It's hard and abrasion-resistant.
POWERMIX
It is a type of flexible cementitious waterproofing that is a flexible, fiber-reinforced, and specially modified high-grade acrylic polymer that is mixed with Portland cement to provide superior water protection and more to concrete surfaces.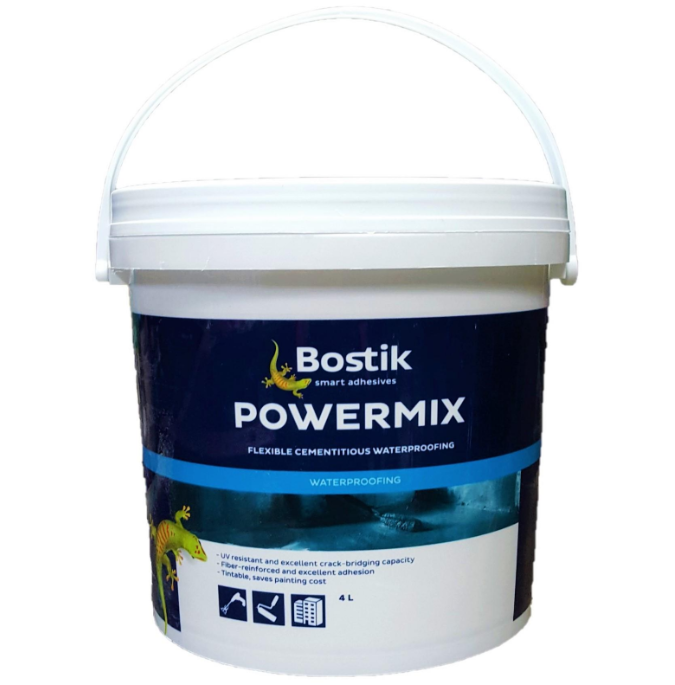 It is recommended to use in:
Colored waterproofing for firewalls

Keying aid

Grouting

Tile adhesive bonding agent

Tile-to-tile adhesive
BOSCOSEAL TORCH-ON 
It is a type of torch-applied waterproofing membrane. BOSCOSEAL TORCH-ON is a bitumen based-sheet using a specially formulated bituminous compound of distilled asphalt customized with selected high-grade visco-elastic polymers and inert filler.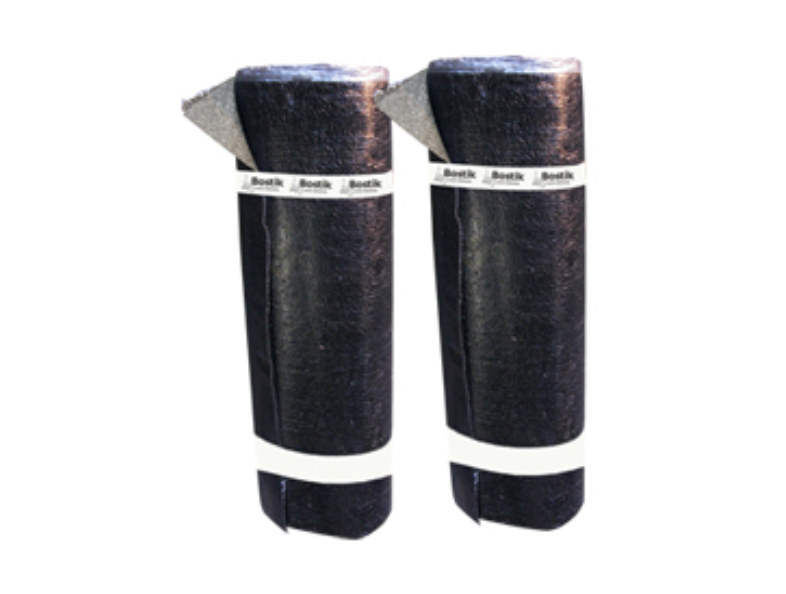 Its features and benefits are the following:
Easy to handle and install

Limited loss of integrity of water stop

Can be bedded into wet concrete

Allows concrete to gain strength before expansion
BOSCOSEAL PU
It's a type of Liquid polyurethane membrane and is a one-part ready-to-use coal tar-free bitumen modified, moisture curing polyurethane membrane. It provides a tough, highly elastomeric, impervious barrier to moisture.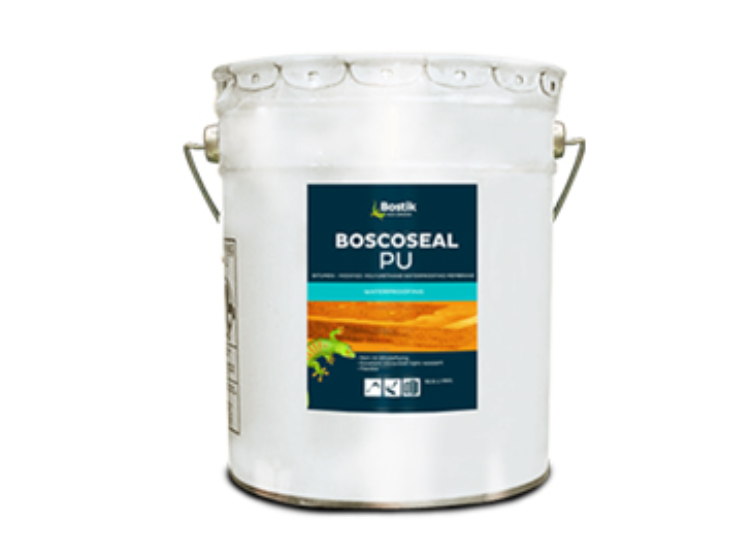 Its features and benefits are:
Ready to use

Coal tar free

Good adhesion to concrete

Brush, roller, or trowel applied
BOSCOSEAL PU-X
It's also a type of Liquid polyurethane membrane. It is a single component, ready-to-use, highly elastic, cold applied polyurethane waterproofing that cures into a membrane with excellent abrasion, mechanical, chemical, thermal, and UV resistance.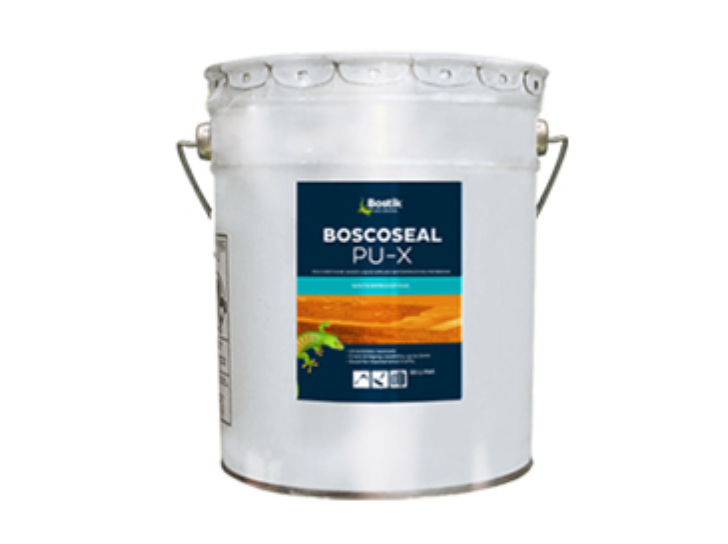 Bostik has a complete line of products that can protect your next project. Want to know more about Bostik products?
Sign up on Bostik Academy to learn more about Bostik's waterproofing products and other products and solutions–for FREE!