In November of 2013, thousands of Filipinos families were left devastated by super typhoon Yolanda. The typhoon was one of the most powerful tropical cyclones in Earth's recorded history and one of the deadliest for the Philippines. Over 6,000 were marked dead or missing, 28,000 injured, and over a million houses were destroyed with an estimate of P95B in damages.
Aftermath of Typhoon Yolanda. Tacloban, November 2013
The storm lasted for a week then, which is now a mere blip in terms of time—but the Philippines is still picking up the pieces seven years later. For Yolanda's seventh anniversary, we check in on the progress of rehabilitation initiatives so far.
Task force extended to 2022
The Interagency Yolanda Task Force (IYTF) receives a term extension to address pending resettlement efforts, which still has a ways to go even seven years later. Their term was initially slated to expire on Aug. 12, 2020, but has been extended to Jun. 30, 2022 per President Rodrigo Duterte's order. The National Economic and Development Authority (NEDA) is "optimistic" that this will provide ample time to complete their housing initiatives.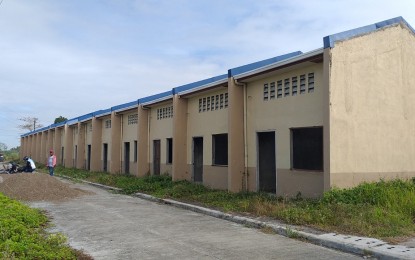 Completed but still unoccupied houses in Tanauan, Leyte for victims of Super Typhoon Yolanda.  Photo courtesy of pna.gov
32K gov't housing units reportedly remain unfinished
IYTF head and cabinet secretary Karlo Nograles reported last Nov. 7, 2020 that 38,058 housing units are still under construction out of the task force's goal of 198,528 houses. He vowed to finish the projects before the President steps down from office, citing permits, clearances, and COVID-19, among other things, as causes of delay. A year prior, Nograles promised to finish the housing projects by the end of 2020.
On the Philippine Red Cross front, chairperson Senator Richard Gordon has reported the completion of over 80,000 permanent housing units for affected families in partnership with multiple foreign Red Cross arms.
Backlog from other storms pile up
Based on the September 2020, budget briefing of the Department of Human Settlements and Urban Development (DHSUD) and National Housing Authority (NHA), housing projects for storms before Yolanda still remain unfinished. For the 2012 Typhoon Pablo, 700 units are still unfinished eight years later. For the 2013 Zamboanga Siege, 417 houses also remain incomplete.
The devastating aftermath of Yolanda is still sorely felt almost a decade after. In Tacloban, a mass was held in commemoration of the departed victims, while part of a cargo vessel washed ashore during the typhoon now stands as a memorial marker for the city.
Vicious storms have always been part and parcel of the Philippine government's primary concerns, and the slow progress of Yolanda efforts show how there is much necessary improvement to be done in terms of disaster response. As we face stronger typhoons due to the climate crisis, we can only hope that the government recognizes the paramount importance of effective and efficient risk reduction planning.