Reinforcing concrete is a technique that combines steel's tensile strength of steel with concrete works. Also known as rebar, this method has been used since the 19th century to make structures more durable to tensile and shear. Since then, reinforced concrete revolutionized the field of construction forever.
Concrete is quite fragile on its own. While it can hold up to loads of compressed pressure, the tensile force can form cracks and make the concrete more brittle. Steel reinforcement prevents that from happening by bonding with the concrete and absorbing the stressors from within.
There are four types of steel reinforcement bars that are used in construction:
Hot Rolled Deformed Bars
These are the most popular bars used for reinforced cement concrete (RCC) structures. It is well-known for its distinct deformations (also known as ribs) that helps adhere to the concrete. It has a tensile strength of 60,000 psi.
Hot Rolled Deformed Bars.
Mild Steel Plain Bars
As opposed to other types, these bars do not have ribs on its surface. It is commonly used for small projects with a tight budget since they're cheaper to come by yet do not bond well with concrete. Its tensile strength is about 40,000 psi.
Plain Bars. Photo courtesy of Indiamart
Cold Worked Steel Bars
These bars look similar to hot rolled deformed bars, although it is worked by rolling the steel at room temperature. Due to its working, these bars are less pliable and work best to improve straightness and low-tolerance projects. It has a tensile strength of 60,000 psi.
Cold Worked Steel Bars. Photo courtesy of Acerinox
Prestressing Steel Bars
These bars are composed of multiple wires (called tendons) ranging from 2 to 7 strands. It is best known for its versatile composition and impressive tensile strength. This material is often paired with prestressed concrete found in bridges and concrete slabs in buildings. It has a tensile strength of around 250,000 to 270,000 psi.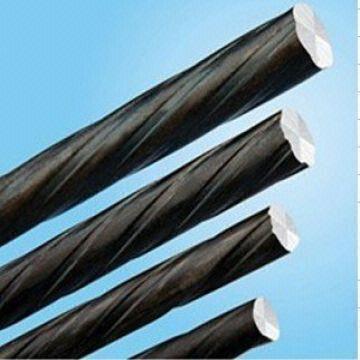 Prestressing Steel Bars. Photo courtesy of Global Sources
Keep in mind that, while steel reinforcement bars improve the integrity of concrete structures, it is not perfect. Concrete is a porous material that produces moisture and salt. These can seep through and erode the steel bars' strength over time. As a construction material, it is expensive and difficult to handle due to its weight. It can also melt in high temperatures, which can be mitigated by tying the steel instead of having it welded.
Despite these disadvantages, its traits and availability have made it one of the most reliable common materials in the construction industry. Steel bars are also considered to be eco-friendly, as they can be recycled as scrap after a demolition. The material is also an influence in promoting structural longevity.