The COVID-19 pandemic is speeding up the long-overdue shift in the global construction industry. It's important to embrace new processes and technology as we come out of the crisis. This will help us be more productive.
In a previous article by Pinoy Builders, the Philippine Constructors Association (PCA) noted a problem with the escalating cost of construction materials in construction industry. This time, let's talk about the challenge towards sustainable infrastructures.
Photo Courtesy: Freepik
RELATED: How a Filipino Startup is Making Waves with Sustainable Housing
Sustainable Infrastructures
Roads, bridges, ports, power plants, and water supplies all help to support economic growth in many countries by making manufacturing, services, and trade easier. However, it's not just a matter of building more. In a world where climate change and depleting natural resources are a threat, infrastructure must be sustainable.
Sustainable infrastructure not only promotes sound economic development, job creation, and the purchase of local goods and services, but it also improves citizens' quality of life, increases positive benefits, helps protect our vital natural resources and environment, and encourages more efficient financial resource management.
Productivity and sustainability are two of the four pillars in the Philippine Construction Industry Roadmap, with digitization and modernization being one of the Action Plan goals.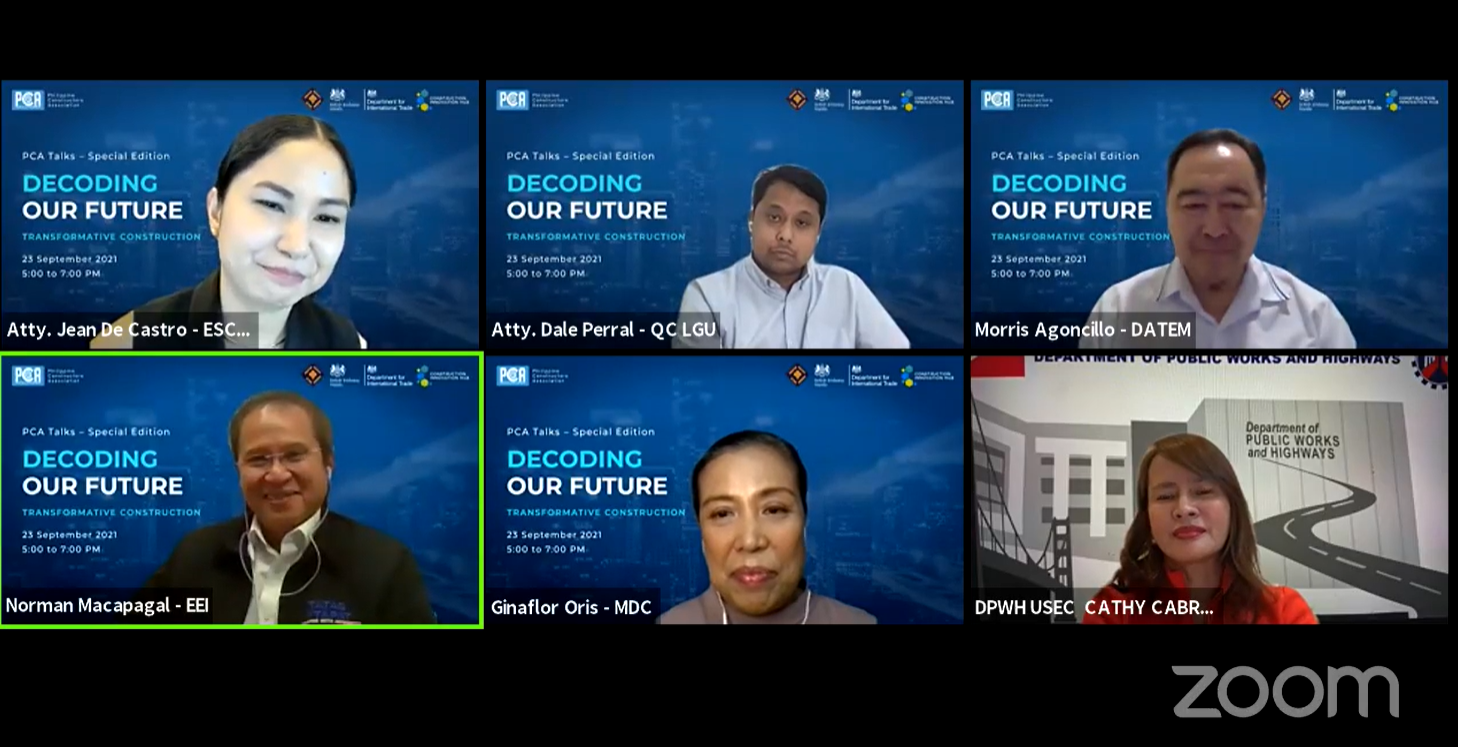 Photo Courtesy: PCA Facebook page
According to PCA, the building and construction industry contributes to 30% of worldwide greenhouse gas emissions, hence protecting the environment must take precedence over all other considerations.
RELATED: What Makes Modern Filipino Architecture Distinctly Sustainable, according to Architect Royal Pineda of BUDJI+ ROYAL Architecture+Design
Areas of Focus
Beyond the pandemic, PCA sees three areas of focus for the future:
Digitization for productivity
What we can automate will be automated – a robotic future
A sustainable world.
Photo Courtesy: Pixabay
The importance of the construction industry in constructing a healthy and long-term economy cannot be overstated. While the road to full recovery remains difficult, the PCA continues to work on their 2021 Strategic Agenda, which includes the construction of our Bridge to the Future.
As PCA Executive Director Paulino said on a recent webinar, "We must be transformative and forward-thinking to stay ahead of the curve."
RELATED: 7 steps for a green and sustainable home renovation
Want to see more content like this in the future? Subscribe now!
CITATIONS: