While June, August, September, and October are popular wedding months across the world, February is a popular month to get married in the Philippines.
According to a report by the Philippine Statistics Authority, the most marriages in 2020 occurred in February. There was a recorded 44,349 marriages held in that month, with a daily average of 1,529 marriages per day. This made February a very busy month in the Philippines for couples to be wed. February is followed by December as the busiest month of weddings in the Philippines; arguably, while the concept of a "June Bride" is well-known around the world, in the Philippines, we have February brides – very fitting for the "season of love". Still, regardless of the month, weddings happen throughout the year in the Philippines.
Traditional weddings, while less popular with the new generations, have never lost its beauty and timelessness. As such, many couples still prefer having their weddings at churches, apart from venues, such as gardens or beaches.
The Philippines is home to many beautiful churches that are popular, with most of them having a deep history that's embedded in our country's own. Most churches these days are popularized because of celebrity weddings, but they all have their own charm that makes them into magnificent venues for weddings.
With that said, we're going to look at 10 of the most magnificent wedding venues that's perfect for when you and your significant other say "I do".
7 Magnificent Wedding Churches in the Philippines
Whether you're looking for a venue that's great for photos or one that's intimate for a few people or even one that's best known for its history, you'll find a church in the Philippines that's PERFECT for your dream wedding. The beauty about the Philippines is that you aren't spoiled for choice – odds are, you'll find multiple venues for your wedding that will best fit the bill of what you're looking for; all that's left for you is to decide based on venue, capacity, and the overall theme of your wedding.
Once that's said and done, here are 10 magnificent churches in the Philippines that you might want to consider for your big day.
Hearts of Jesus and Mary Parish in Quezon City
Popular for being the wedding venue of Kean Cipriano and Chynna Ortaleza, the Hearts of Jesus and Mary Parish in Quezon City is great for non-traditional brides who want a more rustic or a fairytale-style wedding. The church is fitted with gray stone bricks, stained glass windows, and dark wood doors that make it a more modern look. It's the ideal venue for those who are looking to have a traditional venue with a touch of modernity. The church does provide packages for weddings, but you have to be careful when you book the venue for a wedding as the administration of this church is a bit strict when it comes to papers and you might risk losing the venue for the lack of requirements.
Calasiao Church in Pangasinan
Pangasinan's Saints Peter and Paul Parish or Calasiao Church is best known for its baroque architecture. It's made primarily of bricks and features a fortress-like facade that was built to withstand revolts. The church is also a National Cultural Treasure by the National Museum of the Philippines and the National Commission for Culture and the Arts. It's a great venue if you're looking to get married outside of Metro Manila and it's also quite a historic option as the church also houses Museo Calasiao, a small museum that houses historical pieces of the church and vintage photos.
Immaculate Conception Cathedral in Quezon City

Image from ParishPH
If you're a big fan of celebrities, odds are, you'll remember the much-talked-about wedding of Dingdong Dantes and Marian Rivera in 2014. It was hailed as one of the most beautiful weddings in the Philippine entertainment scene and it was held at one of the most known parishes in Quezon City, the Cubao Cathedral, formally known as the Immaculate Conception Cathedral of Cubao. The church was built in 1950 and officially became the Episcopal Seat of the Roman Catholic Bishop of Cubao.
Manila Cathedral in Intramuros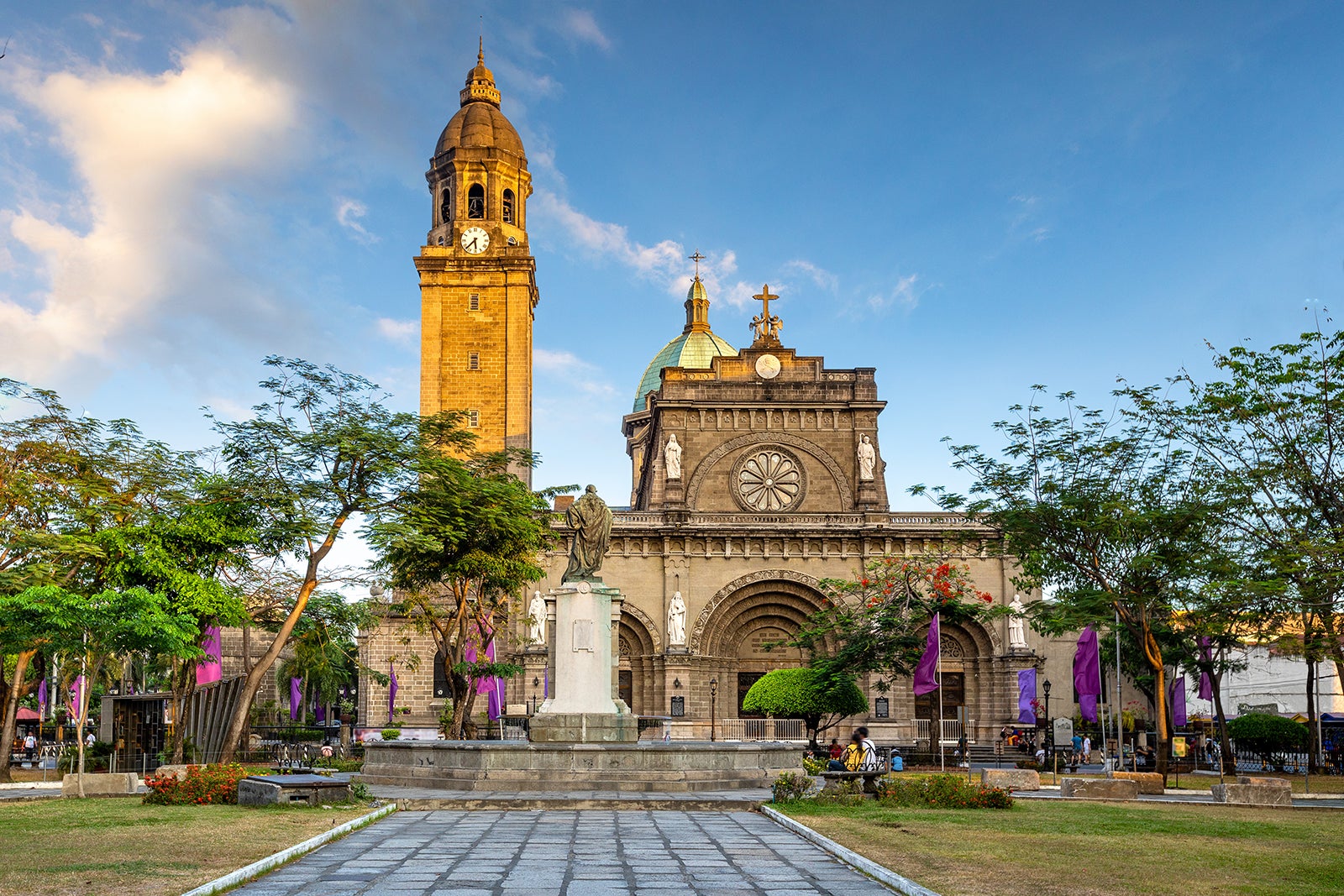 One of the most popular churches in Metro Manila is the Kalakhang Katedral Basílika ng Maynilà or the Manila Cathedral. It's dedicated to Our Lady of the Immaculate Conception and also serves as the Seat of the Archbishop of Manila. The church was built in 1571, with its current rendition completed in 1958. The Manila Cathedral is also arguably one of the most popular wedding venues in the Philippines, which makes it a great choice for brides, but you might want to book your dates early as the dates for the church do get full easily.
Pedro Calungsod Chapel in Cebu
Back in show business, another celebrity wedding venue is the Pedro Calungsod Chapel in Cebu where Kaye Abad married her partner, Paul Jake Castillo. The chapel is more on the simpler side, but that's perfect for brides who want a simple and intimate wedding ceremony. While the church might lack in intricate interiors and noteworthy exteriors, it makes for in the atmosphere – as it is a relatively small chapel; it brings family and friends closer together and gives a lasting impression. Plus, since most of its interiors are light, it makes for an amazing backdrop to your photos with natural light.
St. Joseph The Worker Parish in Baguio City
St. Joseph The Worker Parish in Baguio City is another great option if you want to have a wedding that's outside Metro Manila or if you're in the region already. While it does have a plain exterior, the interiors are beautiful with its vibrant red and gold colors. The church is a popular spot in Baguio, but it was made more popular most recently because it was the wedding venue of Miguel Benjamin Guico, one of the frontrunners of the well-loved OPM group, Ben&Ben.
Santuario de San Antonio Parish in Makati City
Santuario de San Antonio Parish in Makati City was the venue of Rob Mananquil and Maxene Magalona and for good reason. While most residents of Metro Manila – especially those in Makati City – pass by this church almost every day, it's a beautiful church that exudes sophistication, modernity, and tradition. It has the potential to be the venue for an intimate wedding as well as a large-scale wedding as it can accommodate about 200 people. The interiors of the church is beautiful and picturesque, which makes it a beautiful backdrop for a modern wedding.
These are just some of the magnificent churches in the Philippines that make for the ideal wedding venue for all brides. Of course, there are other venues to consider that we cannot simply add all of them into this article. At most, these are some of the most popular ones that are well known by both celebrities and their audiences alike.
Do you want to see more content like this in the future? Subscribe to Pinoy Builders for FREE today and stay in the loop for the latest news and updates on the Philippine construction industry!
Sources:
Larena, E. (n.d.). 14 Must-Visit Philippine Churches for Historical, Architecture & Pilgrimage Tours. Guide to the Philippines. https://guidetothephilippines.ph/articles/history-culture/must-visit-philippine-churches
Nitura, J. (2019, March 15). 15 of the Most Beautiful Wedding Churches in the Philippines. Preview.ph. https://www.preview.ph/culture/wedding-churches-philippines-a00268-20190315-lfrm
Dacanay, A. (2018, April 15). The Prettiest Local Celebrity Church Weddings. COSMO.PH. https://www.cosmo.ph/entertainment/prettiest-local-celebrity-church-weddings-a1000-20180415