With its timeless elegance, practicality, and variety of textures and hues ranging from whites to golds to reds to deep browns or dark blacks, wooden pieces never go out of style.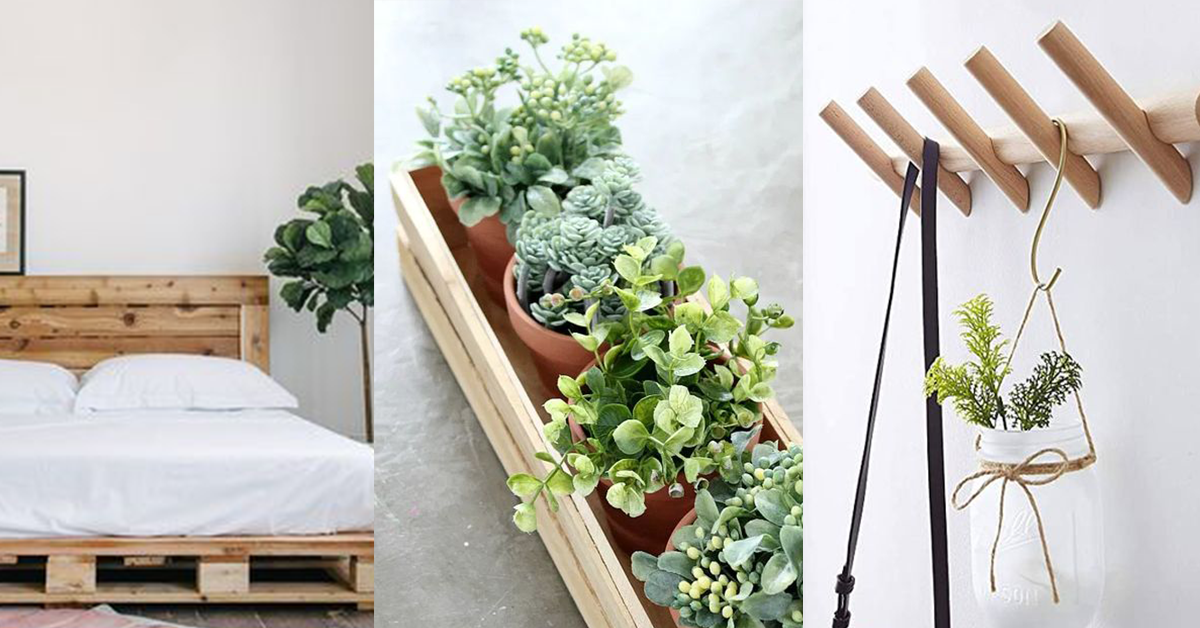 Throughout time, wood has been a staple in construction. Most of our houses and other extensive structures still use it as part of their primary framework.
Reclaimed wood is also very useful. It's simple to upcycle reclaimed wood scraps or wooden furniture into something new, and you can make practically anything out of recycled wood that you could make out of new wood.
Here are some ideas for repurposing wood if you're in the mood for another DIY project!
1. Planter Box
Photo from Pinterest
Make pretty and functional wooden planters with reclaimed wood beams and planks. It's simple to put them together, but it's expensive to buy new ones. It's a very stylish way to add plants to your home. These would look great in your kitchen, office, or any other room in your home.
RELATED: 5 DIY Loft Bed Ideas for Your Small Bedroom
2. Shelf and Rack
Photo from Pinterest
Hang the wood with hooks in your home. It will serve as a nice focus point while also organizing items lying around. This is a really fun piece you can customize with any hooks you want and some colorful shelf décor.
3. Rustic Coffee Table
Photo from Pinterest
No need to go further for an item fir for both indoors and outdoors. A coffee table can handle the weather and the wear and tear of kids all year. You can dress it up for important guests and then quickly changed into a game night gathering spot for the family.
4. Trays and Tabletops
Photo from Pinterest
A piece of scrap wood that is very thin can make a tray or a small tabletop with character.
Also, one could put on a clip at the top of the board to make a unique and quick clipboard to write things down like grocery lists and so on. Simple ideas for repurposing wood in useful ways!
RELATED: Build a DIY Stone Paver Patio in Just One Day with these 6 Easy Steps
5. Driftwood Headboard
Photo from Pinterest
When you look at this unique driftwood headboard, you can almost hear the waves. If you want to make a conversation piece out of a piece of natural weathering, look no further than this one.
6. Room Divider
Photo from Pinterest
A reclaimed wood room divider instantly gives a place personality and charm. When you have the weathered beauty of old wood grain in your view, you don't need any extra wall décor.
7. Wood Palette Bed Frame
Photo from Pinterest
A bed is the most useful piece of modern home furniture, and is in most family rooms, guest rooms, and, of course, our master bedroom. It should be both visually appealing and comfy and practical! This pallet project allows you to create a most sought-after piece of cozy home furnishings in a variety of ways.
RELATED: An Easy Guide to DIY Cement Pots
So the next time you come across a piece of discarded wood, use your imagination to see what you can do with it! Don't forget to use safety eyewear and have a good understanding of tools. Finally, don't be afraid to accept the flaws of repurposed wood because they're part of its charm. Using reclaimed wood tells a tale.
CITATIONS: