The process of land surveying has long existed ever since humans started buying and selling land as properties. From simple and ancient methods of land surveying captured by measurements based on footsteps, modern technology has propelled the process forward and created far more advanced ways of measuring and surveying land with improved efficiency, partnered with high accuracy. As technology continues to improve existing land surveying methods by integrating them with modern inventions, construction professionals can execute land surveying methods with better ease but with improved precision. 
Land surveying is a vital part of any construction project. The process of determining the size, terrain form, and location of a construction site is important and will have a big impact on how the construction project is planned. Land surveying is necessary since the condition and specifications of the terrain are a big influence on the overall structural design of the construction project. Because of its importance, science continues to develop land surveying methods to improve survey results. In this article, we will highlight some of the latest technology in land surveying and how they make the process easier.
UAVs (Unmanned Aerial Vehicles)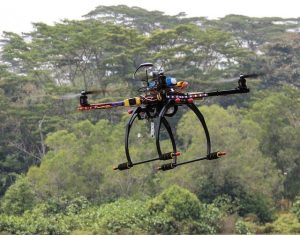 Image from Landpoint
Unmanned Aerial Vehicles/UAVs, commonly known as drones, are equipped with GPS technology, sensors, and cameras that are used to capture the terrain of a site and generate measurements with almost perfect accuracy. Nowadays, UVAs are one of the latest and most transformative technologies integrated into the process of land surveying, as the advancement has not only improved the way construction professionals capture the dimensions and other measurements of a site, but it also reduces the risk of accidents that can happen in an unmanaged terrain.
LiDAR (Light Detection and Ranging)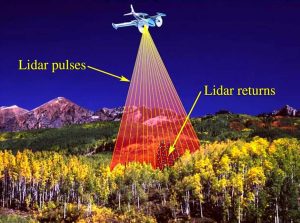 Image from GIS Lounge
A game-changing technology that has revolutionized the way land data is extracted, LiDAR proves to be one of the more remarkable latest technologies that have significantly enhanced the process of land surveying. By utilizing a remote sensing technology that measures distances using laser light, LiDAR produces highly accurate mapping of the earth's surface that is needed before any construction project is planned. 
As a land surveying tool, LiDAR can create a 3D map of the terrain, which consists of all the objects that exist in the surveyed terrain. LiDAR is considered producing land data with a high level of detail that allows construction professionals to recognize the specifics of a terrain. Through the use of LiDAR, construction professionals can extract valuable data and use it for other applications, such as urban planning, environmental inspection, and even risk reduction management for construction sites. 
Robotic Total Stations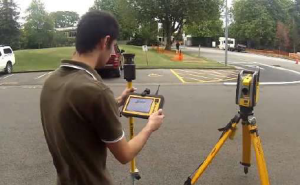 Image from Research Gate
Among the latest technologies integrated into modern land surveying, the robotic total station is an upgrade of the traditional manual total station used to measure the angles and distances between two points of terrain. With robotic total stations, construction professionals can extract important land data from a remote location to reduce the risk of accidents that can occur in unexplored and unmanaged terrain. 
The Latest Advancements In Land Surveying
The latest advancement in technology has caused improvements in the process of land surveying. Global positioning systems, laser light technology, and even robotics are integrated into land surveying methods to achieve far better results with fewer safety risks posed by trekking construction sites, especially those that are naturally unspoiled before human activity. These latest advancements in land surveying allow construction professionals to improve their land data extraction for better site preparation for a project. 
References
Baseline Equipment. (n.d.).

The Future of Land Surveying: 3 Ways Land Surveying is Changing

. Baseline Equipment. Retrieved August 11, 2023, from https://www.baselineequipment.com/land-surveying-future

Hesse, K. (2023, June 23).

Revolutionizing Land Surveying with Digital Technologies

. A Life Without Limits. Retrieved August 11, 2023, from https://www.alifewithoutlimits.com.au/blog/revolutionizing-land-surveying-with-digital-technologies/

Indovance Inc. (2023, February 10).

How Modern Technology is Revolutionizing Contemporary Land Surveying Methods?

Indovance Inc. Retrieved August 11, 2023, from https://www.indovance.com/knowledge-center/modern-technology-revolutionizing-land-surveying/

Njambi, R. (2021, December 8).

LiDAR accuracy, explained — and when to use stereo satellite imagery for elevation modeling

. UP42. Retrieved August 11, 2023, from https://up42.com/blog/lidar-accuracy-explained-and-when-to-use-stereo-satellite-imagery

Quinn Equipment. (2022, December 22).

The Complete Guide to Survey Equipment for Land Surveying in 2023

. Quinn Equipment. Retrieved August 11, 2023, from https://quinnequipment.com/land-survey-equipment-guide/