Cement manufacturer Holcim Philippines, Inc. continues to improve health and safety controls against COVID-19 at its sites to protect the well-being of people, partners, and the community as the company prepares to resume operations following the government's easing of enhanced community quarantines.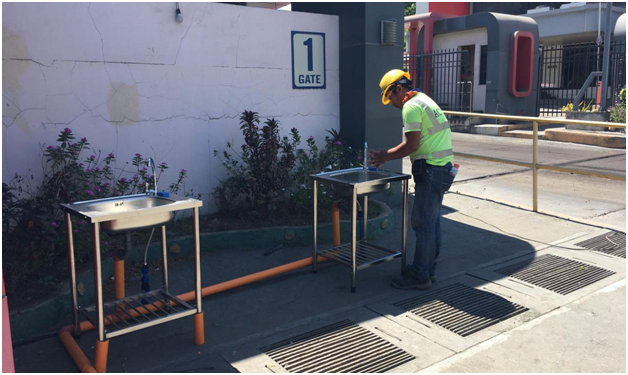 The company has installed additional handwashing stations in all its sites to further strengthen the protection of workers against Covid-19.
The company closed sites and facilities in Luzon in compliance with the national government directive of an enhanced community quarantine on 16 March 2020. The company also shut down its plant in Davao City following a similar action by the local government on 2 April 2020.
Holcim Philippines President and CEO John Stull expressed confidence that the company's strong health and safety culture and well-thought-out plans enable it to protect people from COVID-19 when operations resume. Initiatives will draw from best practices across the Lafarge Holcim Group and focus on social distancing, personal hygiene and health checks.
"In Lugait, Misamis Oriental, our plant continues to run without any COVID-related incident, further proving that our strength in Health and Safety enables us to properly manage these risks. Lugait also provides a model on how we can protect the well-being of people when we restart operations of our other sites," Stull added.
The company's skeleton teams in all its sites have installed markers to guide people in staying two meters apart as prescribed for social distancing and built handwashing stations. Holcim Philippines also continues to share information to employees and partners on COVID-19 to help them be more aware and mindful of protecting themselves against the disease.
Stull said the company welcomes the government's measured efforts to ensure business activities can resume safely. He added that Holcim Philippines would continue to strictly adhere to the guidance of health authorities on this matter and be ready to share such best practices to partners, industry groups, and government agencies to help in the safe resumption of building activity in the country.
Holcim has also shifted its corporate citizenship budget to provide medical supplies to hospitals treating coronavirus patients and food and hygiene products to communities hosting its facilities in La Union, Bulacan, Manila, Batangas, Iloilo, Misamis Oriental, and Davao City. Approximately 1,500 families and government front line workers have benefited from the first batch of relief operations completed as of April 14.