We cannot underestimate vast structures like buildings in how they affect our daily lives. 
Photo Courtesy: Pixabay
The impact of the construction industry on society has increased significantly, in both positive and negative ways. Its rapid development showed the rise of solutions to counteract the negatives. The construction of green buildings is an excellent example of this, aiming to reduce its negative environmental impact.
According to the Green City Index, each Filipino has an average of 5 square meters of open space. But, the most striking number is that green space makes up 47 percent of Singapore's land area. Rio de Janeiro came in second with 29%. New York is at 14 percent, whereas Manila is at 0.03 percent. This suggests that we need to focus on developing more environmentally friendly or green structures.
How do green buildings help the planet?
Green buildings, according to the World Green Building Council, are one of the most effective ways to achieve a range of global goals, including combating climate change, establishing sustainable and thriving communities, and boosting economic growth.
We can divide green building benefits into three categories: environmental, economic, and social. Let's dive deeper into the matter at hand!
RELATED: Urban planner and architect Felino "Jun" Palafox on Sustainability through Green Infrastructures
1. Reduced environmental impact.
Green buildings' main purpose is to reduce the construction industry's negative influence on the climate and environment, particularly pollution and resource depletion. It considerably reduces waste production and greenhouse gas emissions because of its principles.
According to the United Nations Environment Programme, emissions savings of up to 84 gigatons of carbon dioxide might be achieved by 2050. Efficiently using raw materials and shared natural resources helps reduce the environmental impact.
Photo Courtesy: Pixabay
2. Save money.
A green building's initial construction expenses may be a little more expensive, but they are cheaper to operate and maintain in the long run. You can save money by reusing and recycling materials. Simple design choices, like passive cooling and natural lighting, can cut down operations costs.
3. Energy and water efficiency.
In recent years, solar power systems have gotten significantly more affordable. In both large and small-scale projects, it is a useful technique. If you have a large enough number of solar panels, they can supply all of your electricity needs. They not only help the environment but also cut operational costs. 
Photo Courtesy: Pixabay
Water is another natural resource conserved through green building. It aims to ensure a steady supply of safe drinking water for the next generation. We can also use rainwater as an alternate source, with proper treatment. Gray water has been used in public restroom water closets at some major commercial establishments. Installing water treatment facilities into your development to recycle used water is another option.
RELATED: What Makes Modern Filipino Architecture Distinctly Sustainable, according to Architect Royal Pineda of BUDJI+ ROYAL Architecture+Design
4. Increased marketability.
Investors and potential occupants alike are prioritizing sustainability and social responsibility more and more. Your building's credentials improve its marketability if it makes use of green interventions. Properties with a greener footprint can draw more tenants and buyers. Owners can implement a higher lease and selling price by combining demand and technology.
Holcim Philippines green cement ECOPlanet
A new green cement from Holcim Philippines called Holcim ECOPlanet is a welcome addition for those wishing to create environmentally friendly structures. It is Holcim's most environmentally friendly product, with a carbon footprint that is over 30% lower than other general purpose cements.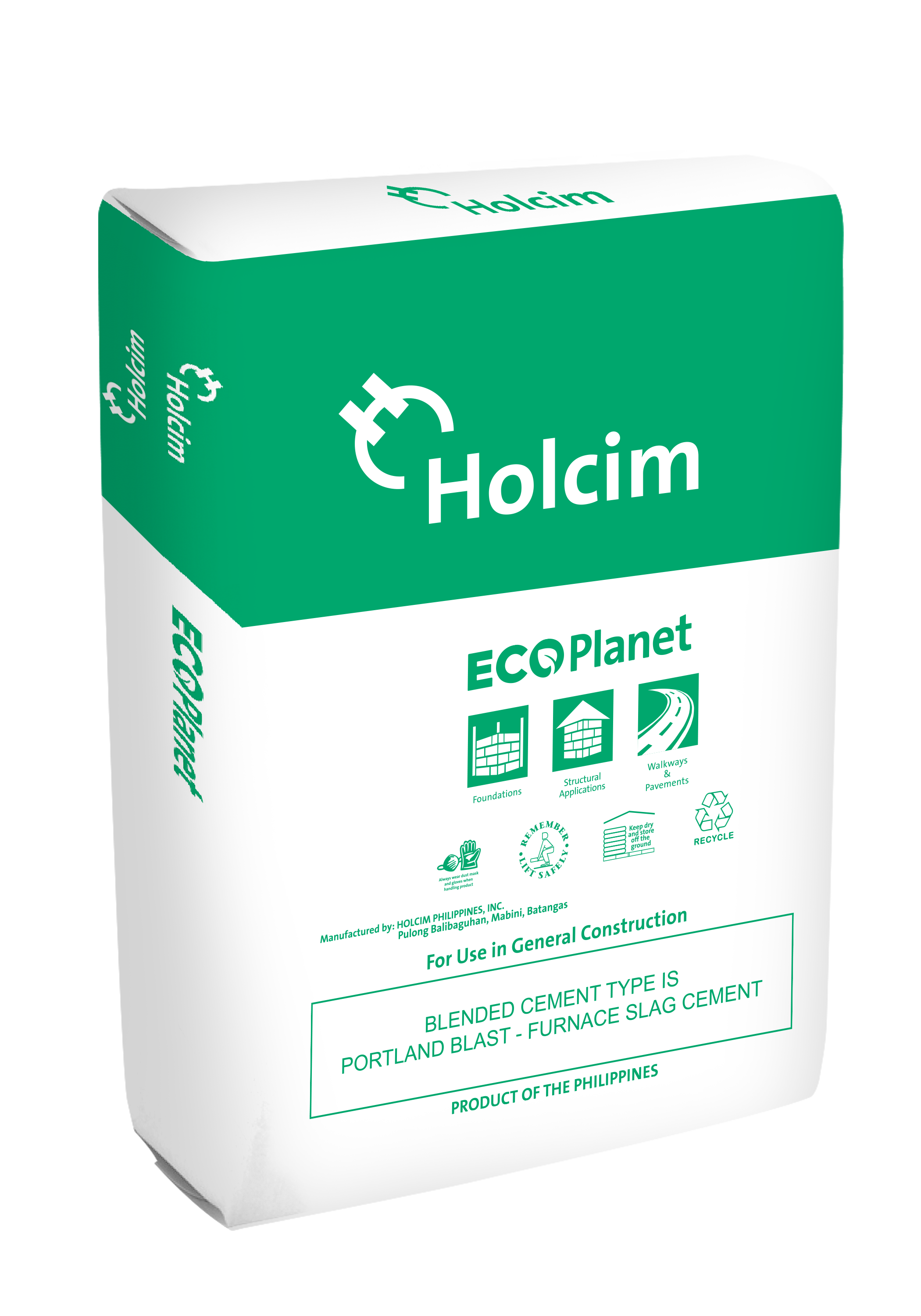 ECOPlanet is a general-purpose mixed cement that is excellent for structural applications and provides comparable construction performance while reducing building carbon footprint. This product will be available in 40kg bags, in both paper and plastic packaging. And yes, Philippines will be one of the first markets to receive ECOPlanet!
5. Increased productivity.
The social and economic benefits of green buildings are interconnected. Workers in green and well-ventilated workplaces showed a significant rise in cognitive performance and crisis response, according to a study from Harvard. Besides improving their wellness, those who live in these environments report greater sleep quality and fewer symptoms of illness. As a result, productivity in the office has increased.
6. Long-term investment.
Protecting your investment and ensuring its long-term profitability are both possible with long-term actions. Developments must be able to adapt to changing times and regulations, and must be able to withstand the test of time.
The goal of green recovery is to develop policies and solutions that benefit both people and the environment. Green building projects are examples of this, as they provide for flexibility, resilience, and a consistently high quality of life for its users. As a result, they boost their earnings and potential market worth.
RELATED: The power of sharing: Charlie Ayco on renewable energy for sustainability
There is still a long way to go before green buildings become the norm. However, in the long run, these sustainable projects can have a significant impact on the world's overall progress. So, let's start the change and go green.
CITATIONS:
World Green Building Council. (n.d.). The benefits of green buildings. Retrieved November 24, 2021, from https://www.worldgbc.org/benefits-green-buildings#:~:text=1%20Environmental.%20One%20of%20the%20most%20important%20types,been%20shown%20to%20bring%20positive%20social%20impacts%20too.

Smith, A. (2021, June 10). 7 Well-Known Benefits of Green Buildings. Global Trade. Retrieved November 24, 2021, from https://www.globaltrademag.com/7-well-known-benefits-of-green-buildings/