The Department of Public Works and Highways celebrated the department's 124th Founding Anniversary last June 23, 2022, following the theme "DPWH @ 124: Road from Recovery to Prosperity". The celebration highlighted the DPWH's achievements in the last six years under the administration of outgoing President Rodrigo Duterte. One of the government departments in charge of major infrastructure projects is the Department of Public Works and Highways. They plan, design, construction, and maintenance of national roads, bridges, major flood control systems, and other public works. 
The DPWH saw the rise of a couple of its projects this year, including the New Clark City Phase 1, the Metro Manila SkyWay 3, the Clark International Airport Expansion, and the BGC-Ortigas Center Link, among others. There is much more to expect from the DPWH and some of their projects are due to rise soon. That said, here's a quick look at the ongoing and upcoming projects to look out for in the next couple of years to come. 
Ongoing DPWH Projects
There is a lot going on right now in terms of infrastructure and while we did the completion of major projects this year, there is still more to expect as 2022 goes along. Here is a quick rundown of the ongoing projects under the Department of Public Works and Highways. 
NLEX-SLEX Connector Road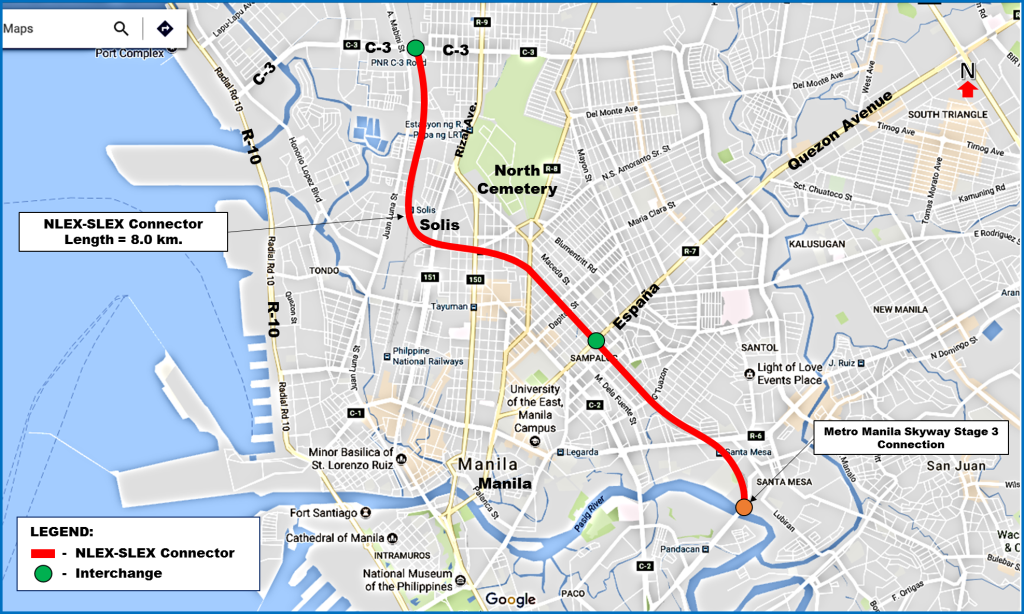 The NLEX-SLEX Connector Road is an 8-kilometer elevated toll express that would extend the North Luzon Expressway southward to Manila, Caloocan City, and will connect to the Metro Manila Skyway 3. It aims to decongest the traffic in Metro Manila while providing better access to Manila ports and airports. This also provides trucks with an alternative route and resolution during truck bans. It aims to serve at least 35,000 motorists a day and reduce the travel time from NLEX to SLEX from 2 hours to just 20 minutes. 
C5 Southlink Expressway Project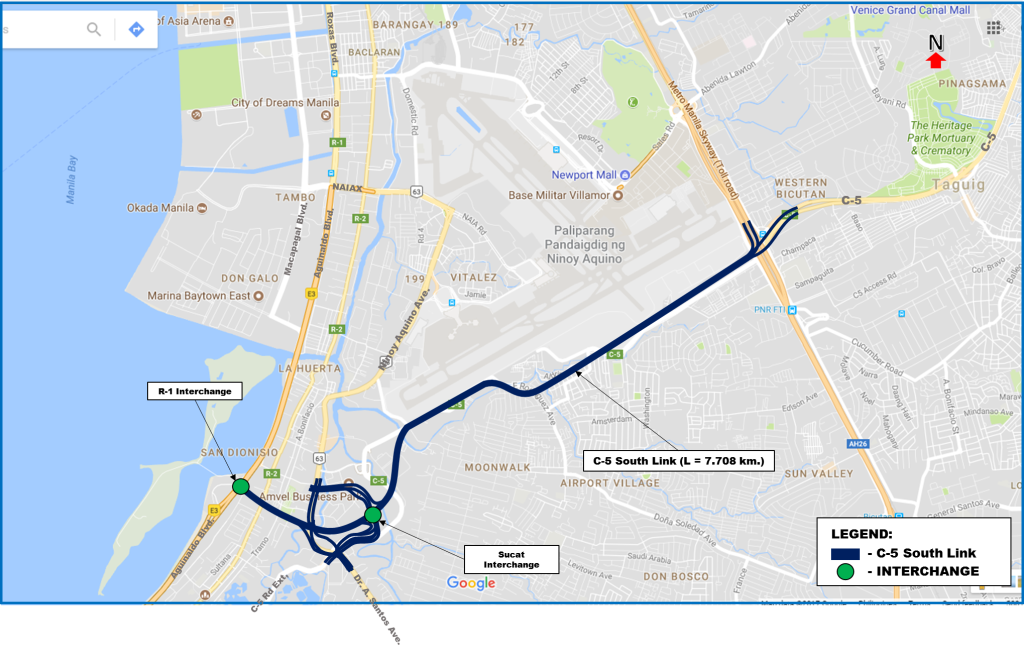 The C5 Southlink Expressway aims to connect Metro Manila's business districts (Makati & Taguig) to the Cavite/Parañaque/Las Piñas area. With this project, they aim to decongest traffic and reduce the travel time from R-1 Expressway to SLEX/C5 from 40 minutes to 10 minutes. This would also provide easier connections between the Coastal Expressway to C-5 Road. 
Southeast Metro Manila Expressway Project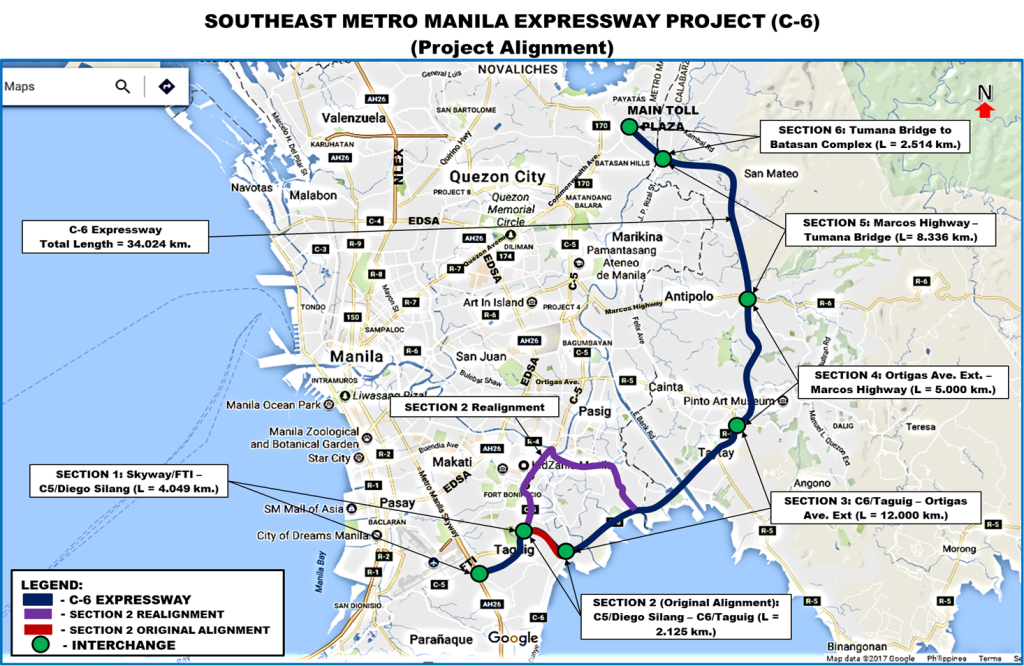 Commonly known as the C6 Project, the Southeast Metro Manila Expressway Project is a toll road that should run from Skyway/FTI in Taguig City to Quezon City's Batasan Complex. It's said to be divided into two segments with six sections: 
SEGMENT 1
Skyway/FTI to C5-Diego Silang

C5-Diego Silang to C6/Taguig

C6/Taguig to Ortigas Avenue Extension
SEGMENT 2
Ortigas Avenue Extension to Marcos Highway

Marcos Highway to Tumana Bridge

Tumana Bridge to Batasan Complex
The C6 Project, upon completion, will provide motorists with an alternate route from Quezon City to Parañaque through busy areas of the Metro. 
Other ongoing DPWH projects include but are not limited to:
Integrated Disaster Risk Reduction and Climate Change Adaptation Measures in the Low-Lying Areas of Pampanga Bay 

Cagayan de Oro Coastal Road

Flood Risk Improvement and Management Project – Cagayan De Oro River

NLEX Harbor Link Extension to Anda Circle 

Arterial Road Bypass Project Phase III (Plaridel Bypass)

Davao City Bypass Construction Project 

Bacolod-Negros Occidental Economic Highway 

Camarines Sur High-Speed Highway Project 

Pasacao-Balatan Tourism Coastal Highway 

Mindanao Road Sector Project  

Davao City Coastal Road Project

Southern Luzon Expressway Toll Road 4
Upcoming DPWH Projects
The DPWH continues to busy themselves as the new administration rolls in. They are expected to continue more projects under the Build, Build, Build program left by outgoing President Rodrigo Duterte. 
For the upcoming projects, incoming DPWH Secretary Manuel Bonoan mentioned they will take a look at the pipeline and choosing projects to prioritize. 
Upcoming projects in the DPWH pipeline include, but are not limited to: 
Panglao-Tagbilaran City Offshore Connector Bridge

Davao City Expressway

Metro Cebu Expressway Project

TPLEX Extension Project

Laguna Lakeshore Road Network Project

Cavite-Tagaytay-Batangas Expressway Project

Quezon-Bicol Expressway 
As the DPWH ushers in a new year, they continue to serve the public by carrying out their infrastructure projects to provide easier access and to help make transportation easier. 
Citations: 
The National Economic and Development Authority. (n.d.). The National Economic and Development Authority. https://neda.gov.ph/

Department of Public Works and Highways |. (n.d.). Dpwh.gov.ph. https://www.dpwh.gov.ph/

Home Page – BUILD. (n.d.-b). Www.build.gov.ph. http://www.build.gov.ph/