As we all know, water is a resource we can access freely and naturally. Many around the world use rainwater harvesting to keep up with the supply and demand for water and to have the means to collect and store water for future use. It's a sustainable way of having a water supply that uses various traditional skills, knowledge, and resources.
One of the best uses of rainwater harvesting is having a storage system for gardening. In this article, we'll be looking at how you can create your own DIY rainwater harvesting system for your gardening needs.
Rainwater Harvesting: An Overview
Rainwater harvesting is simply the act of collecting and storing rain for later use. Since rainwater isn't potable, many use it to aid in household tasks such as washing cars and maintaining gardens.
READ MORE: All You Need to Know About Rainwater Harvesting: Different Methods and Benefits
There are many ways in which you can make your own rainwater harvesting system at home and how you make your own system would depend on a couple of factors including:
Collection Area – Sizing this area is essential as this will determine how much water you'll be able to collect. You also have to ensure that the system can filter our contaminants.
Size – The size of your tank will most likely be the most important and expensive part of this DIY home project as it will depend on the size of your area, the amount of rainfall in your area, and water loss.
Water Volume – Think ahead and try to eyeball the amount of water that you'll be able to collect. This will usually be around 5%.
If you're just getting started, it's highly recommended that you start with a small home improvement project rather than a large-scale one. Starting small will help you get the hang of it and assess just how much you can really collect and use.
Rainwater Harvesting for Gardening
One of the best uses for a rainwater harvesting system is gardening. If you're a plantito or a plantita, odds are, you'll have a variety of plants in your garden and it can get quite expensive to maintain since you need to water your plants periodically. Having a rainwater harvesting system helps to lessen the cost of water while helping you keep your garden healthy.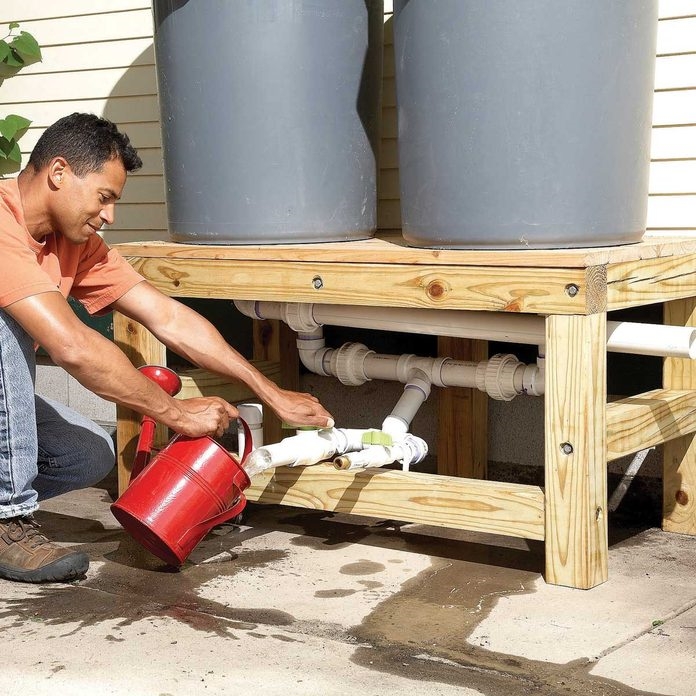 It's also a more sustainable and eco-friendly way to maintain a garden since you'll be using water from a natural source. It's also ideal if you're looking for a way to make your garden self-sufficient with its own independent water supply.
Depending on how your garden is set up, there are a variety of ways that you can create your own system that won't disrupt your garden.
How to Create a DIY Rainwater Harvesting System
After assessing your garden and the area that you'll be using as the collection area for your rainwater harvesting system, the next step is to build your system. You can have them professionally built and installed, but if you want to try your hand at creating your own, there are many ways to do it.
For this DIY home improvement project, you'll need:
A cordless drill
2 1/4in Hole Saw
2in male threaded electrical conduit adapter (gray PVC)
2in female threaded electrical conduit adapter (gray PVC)
Glue
4×4 treated lumber
Construction screws or stainless steel lags
55gal. barrel with lid
Screen
Sections of 2in PVC pipe
Threaded electrical PVC coupler
Unions, reducers, and valves
Silicone caulk
You'll be able to find these items in a hardware store or at a home depot. You can even recycle items that you have at home to create your system provided that they are still useable and are free from damage.
DIY Rainwater Harvesting System: The Creation Process
Once you've gathered all your materials and have assessed your collection area, here's a step-by-step process of how you can create your DIY rainwater harvesting system.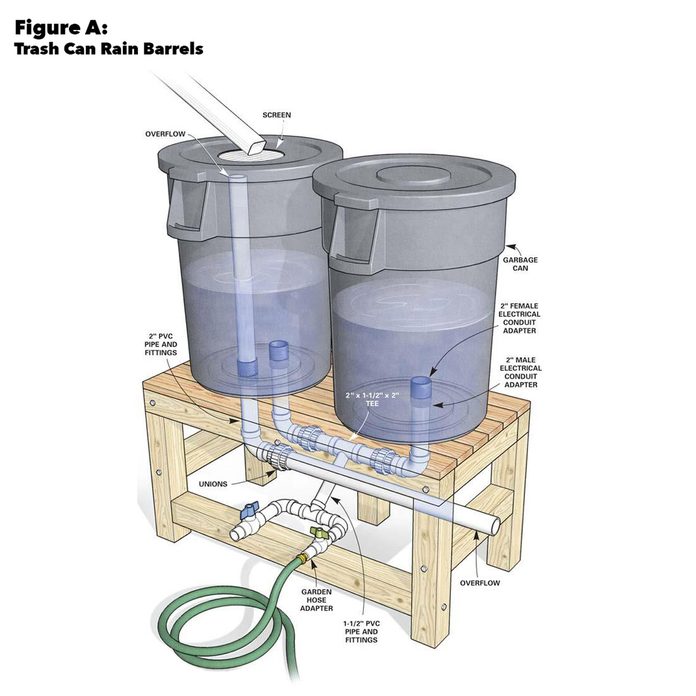 Place your drum or barrel near a downspout. Drill a hole in a side near the bottom and screw a drain valve in. Depending on how you plan to use it, you may need to elevate the barrels for more water pressure – for this, you can use the 4×4 lumber to create your own stand.
Cut holes into the bottoms of the barrels with your hole saw, then screw in the 2in male and female threaded electrical (gray PVC) conduit adapters to make a watertight hole that the rainwater can flow from.
Use the silicone caulk around the opening and screw on a threaded electrical PVC coupler to cinch the barrel between the two fittings.
Glue together the PVC pipe sections, unions, reducers, and valves. Also, take this time to install an overflow pipe so it can direct the excess water to a designated spot.
Install your valves; you will need a larger valve to fill in water cans and smaller ones if you intend to use a gardening hose. Secure those to the cross brace with J-brackets.
Cut a hole into one cover and place a screen so it can filter out debris and leaves.
You can create this home improvement project in one or two days – depending on how much time you'll spend on it. After the setup, the next step is to, of course, wait for the rain to see if your system is effective or if you'll need to make it better.
Like other DIY home improvement projects, it's important to monitor them throughout their use to make sure that everything is functioning properly. Repair any damage as soon as you can so the rainwater harvesting system can run smoothly.
By having your own rainwater harvesting system, you won't be able to just save on your water bills, but you'll have a more sustainable alternative for gardening. It'll also make your garden self-sufficient by having its own watering system.
Citations:
Rainwater Harvesting Systems: A Full Guide. (n.d.). DIY Doctor. Retrieved July 11, 2022, from https://www.diydoctor.org.uk/projects/rainwater-harvesting-systems.htm

Sheehan, A. L. (2021, March 26). How to Set Up a Rainwater Collection System & 8 DIY Ideas. Rural Sprout. https://www.ruralsprout.com/rainwater-collection/

How to Build a Rain Barrel. (2019, April 2). Family Handyman. https://www.familyhandyman.com/project/how-to-build-a-rain-barrel/

How to Make a DIY Rainwater Harvesting System. (2019, August 20). Green Global Travel. https://greenglobaltravel.com/rainwater-harvesting-system/

Singer, J. (2020, June 17). Build Your Own Rainwater Collecting System. Garden Culture Magazine. https://gardenculturemagazine.com/build-your-own-rainwater-collecting-system/