Nearly three years after COVID-19 first hit the Philippines, Metro Manila and 38 other areas are under Alert Level 1. This is the lowest level of health restrictions following a recorded continuous decline of cases and hospital admissions in recent weeks, as of March 1. 
Photo Courtesy: PPP Center
Based on statements from the government's coronavirus task force, here are the following guidelines under Alert Level 1.
1. Wearing of Facemasks
Photo Courtesy: Freepik
Well-fitted masks must be worn at all times, whether outdoors or indoors in private or public facilities, including public transportation by land, air, or sea except in the following circumstances:
Eating and drinking;
Taking part in team and individual sports in venues with maintained ventilation standards;
Practicing outdoor sports/exercise activities with maintained physical distance.
Also, national protocols on the proper use, handling, and disposal of personal protective equipment must be followed by all establishments.
RELATED: 4 Construction-Related Areas Affected by the Russia-Ukraine War
2. Workplaces, School and Establishments
All private offices and workplaces, including public and private construction sites, may operate at full capacity (under national issuances for on-site immunization requirements).
They may, however, continue to offer flexible and alternate work arrangements as needed, depending on the role or individual risk.
Government offices must "adhere to a 100% on-site personnel" as well. The rules and regulations of the Civil Service Commission and the Office of the President shall govern off-site work.
Also, isolation facilities in the workplace are not required for businesses.
3. Public Transport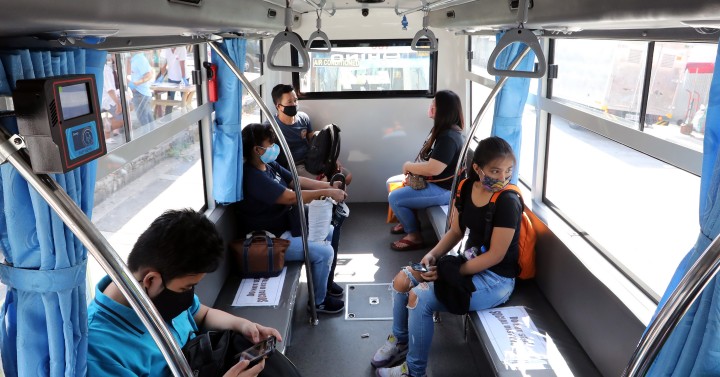 Photo Courtesy: Philippine News Agency
In areas where Alert Level 1 is in effect, public transit must operate at full capacity.
For land transportation, the rules on capacity will follow those that have the least capacity when you move from areas with Alert Level 1 to areas with higher alert levels.
For aviation, maritime, and rail public transportation in and out of Alert Level 1 areas, the capacity for passengers will be 100%. 
Using acrylic and/or plastic dividers shall not be required, and the use of the Safe, Swift and Smart Passage (S-PaSS) travel management system shall likewise not be required for interzonal travel to areas under Alert Level 1.
4. Contact Tracing
No need to fill out health declaration forms. Digital contact tracing via StaySafe contact tracing application will be optional.
RELATED: Enhancing Indoor Air Quality as Effective as Vaccinating 50-60 Percent of the Population vs. COVID-19 Spread ―WGBC
5. Proof of Vaccination Requirement
Proof of full vaccination for all individuals aged 18 and above is needed to enter indoor establishments or take part in mass gatherings, which will include:
In-person religious gatherings
All indoor cinemas or movie houses operating at full capacity
Venues with live voice or wind-instrument performers and audiences

karaoke bars
clubs
concert halls
theaters

For necrological services, wakes, inurnment, and funerals for people who died of other things than COVID-19 and for the cremains of people who died from COVID-19
All indoor dine-in services

kiosks
commissaries
restaurants
eateries

All indoor personal care establishments

barbershops
hair spas
hair salons
nail spas
those offering aesthetic/cosmetic services or procedures
make-up services
salons
spas
reflexology
other similar procedures, including home service options

Fitness studios, gyms and venues for exercise and sports
Meetings, incentives, conferences, exhibition events and permitted venues for social events

parties
wedding receptions
engagement parties
wedding anniversaries
debut and birthday parties
family reunions
bridal or baby showers

Indoor ancillary establishments in hotels and other accommodation establishments
Venues for election-related events. 
For places that are closed, crowded and have close-contact settings, proof of vaccination should be presenter first thing before entry.
Meanwhile, proof of full vaccination is not required for take out and outdoor or alfresco dining and for minors or individuals who are under the age of 17.
7. Testing, Quarantine and Treatment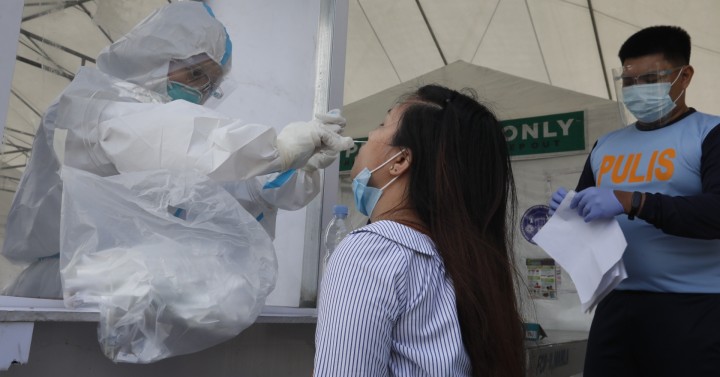 Photo Courtesy: Philippine News Agency
According to the IATF, persons who are still unvaccinated or have a high risk of exposure are subject to testing measures under national guidelines. Senior citizens, people with comorbidities, and healthcare staff are prioritized for RT-PCR testing. Outside of these priority groups, RT-PCR testing will be optional.
Asymptomatic close contacts do not need to be tested unless symptoms appear. The IATF recommended antigen testing in such circumstances. In asymptomatic cases, it's equally important to remember to isolate immediately. If they still wish to test, they should wait at least 5 days after their last exposure.
Based on their risk and benefit assessments, the Hospital Infection Prevention and Control Committees (HIPCC) may set testing measures at health facilities for health personnel and patients.
Meanwhile, businesses on Alert Level 1 are no longer obligated to set up isolation facilities in the workplace.
Close contacts, asymptomatic cases, and mild to moderate confirmed cases should all be treated in primary care settings, such as health centers, private clinics, and tele consultation. Severe and critical cases must be treated at a medical center that is equipped to handle them.
In reintegration, isolation can be discontinued once the recommended isolation duration has been completed, as long as they haven't had a fever for at least 24 hours using no antipyretic medications and their respiratory signs and symptoms have improved.
A medical certificate may claim sick leave, health benefits, or other applicable processes if proof of a COVID-19 diagnosis is needed. The patient's name, severity of symptoms, COVID-19 diagnosis (probable or confirmed), and date of end of quarantine and/or isolation time should all be included.
Despite the relaxation of quarantine restrictions, let us all continue to take cautious steps and adhere to health protocols in order to combat the pandemic.
Subscribe now to see more content like this in the future!