In the construction industry, you'll find that there are many pitfalls in the process of a construction project. It's a difficult task – especially for project managers – to keep the site running safely and smoothly with its schedule and budget. Every construction project is unique and each poses its own challenges. It's up to the project manager to be strategic in understanding both the business and the tactical aspects when it comes to the project.
The on-schedule delivery of a construction project widely depends on its project management and how a project manager can work with difficulties to ensure that everything is on track and the project can be completed without delays.
That said, it helps to be ready when facing these challenges and to be proactive in finding solutions that can curb them. As such, here are five (5)  common challenges in construction projects that you might encounter in a typical construction project.
5 Challenges in Construction Projects That You Might Encounter
Poorly Defined Goals
It's not new in the industry if you come face-to-face with a stakeholder who doesn't know what they would want to achieve as the final work result. This often leaves the managers with a lack of a clear vision and instills confusion which leads to project delays if they don't have a clear sense of direction. While this can be easily remedied with planning and a thorough discussion, a good project manager must be quick on their feet to keep in touch with the clients or stakeholders to make sure that they are going in the right direction.
It helps to ask the right questions and to keep clear goals in mind from the get-go to avoid any delays and mishaps with the construction project.
Scope Creeps
Otherwise known as changing scopes, scope creep is one of the bigger challenges that can be encountered in the construction project. It's most commonly a product of undefined or poorly defined goals at the start of the project. This can lead to delays and projects going over the budget.
Project managers need to openly communicate with their clients in regard to scope changes – including the changes to schedules and the budget. It's good to stop problems at their source so they can be dealt with accordingly instead of leaving them to get bigger and cause more problems than they should.
Budget Constraints
Budget constraints are not a new occurrence in the construction industry and most often, it's one of the biggest causes of delays in a construction project. Construction managers need to set expectations for any cost overruns as well as make adjustments and manage them. It's also the job of the project manager to make sure that the project deliverables are identified and reviewed constantly to make sure that everything stays on track.
Keep a close eye on deliverables to make sure that any unplanned work or change orders won't be able to creep their way into the project scope to keep things on track.
Hazard Management
Many know that the construction industry, as opposed to others, involves greater and more costly risks. On-site workers face real dangers during work hours that include injuries and even the loss of life which only means that risk and hazard management should be a top priority for project managers.
Site and project managers should be proactive in identifying the risks and safety issues within the construction site and strive to finish the project without any incidents. As such, project managers need to be prepared with site-specific safety plans that involve the workers as well. Ultimately, it also helps to remember that not all projects are the same and any safety plans made should be tailored only to a specific project.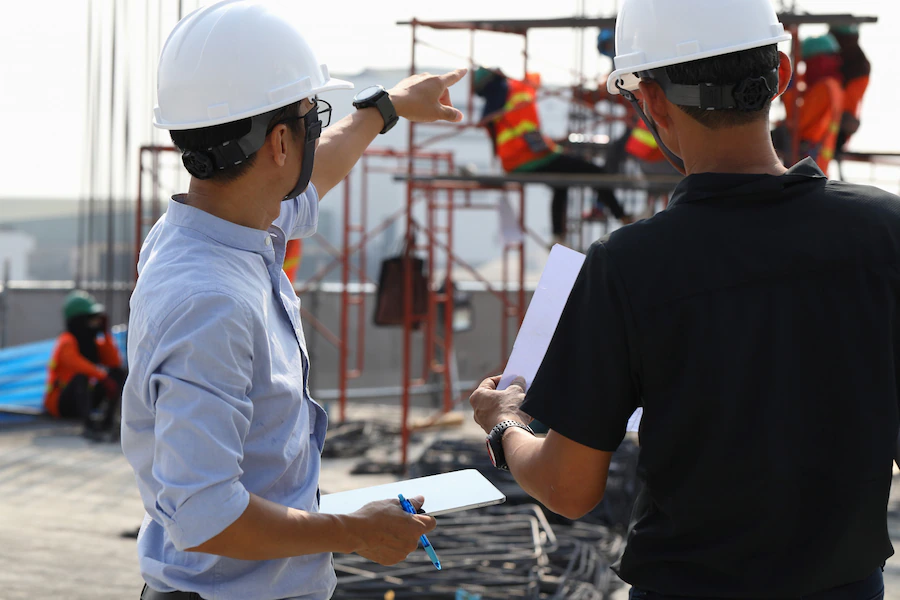 Limited Skills
Many know that the construction industry is a reputation-based one and many individuals prefer to work with people that they trust or are familiar with. While this is often a good thing as teams will be able to function easier, it can also lead to gaps in skills which can be a cause for delay in the project.
A good solution to this is to detect the gaps earlier on in the team and address them before they can significantly impact the project. Find construction experts who can bridge the gaps quickly and efficiently. One of the best and easiest ways to do so is to refer to listings – just like the Pinoy Builders listing to help you find the right construction professional for the job.
These are just some of the many challenges that can be encountered during the duration of a construction project. It varies from project to project but it helps to be aware of such challenges so that managers can stay proactive in improving processes to make sure that these challenges can be avoided before they can affect the overall success of the project. Construction managers need to always be vigilant and attentive to what is going on around them to make sure that their projects can be finished without any incidents and within schedule.
Sources:
Page, M. (2019). Top 6 Construction Project Challenges | Michael Page US. Michael Page. https://www.michaelpage.com/advice/management-advice/top-6-construction-project-challenges
Hogan, P. (2019, October 3). Top 5 Challenges for Construction Project Managers. Www.fieldwire.com. https://www.fieldwire.com/blog/top-challenges-for-construction-project-managers/
Novotny, R. (2018, May 31). 7 Most Common Challenges in Construction Project Management. ESUB Construction Software. https://esub.com/blog/7-most-common-challenges-in-construction-project-management/
Top 5 Challenges in Construction Project Management. (2020, November). ActiTIME. https://www.actitime.com/project-management/construction-project-management-challenges
Menon, M. (2022, March 25). Top 5 Construction Project Management Challenges and Their Solutions. Visilean.com. https://visilean.com/top-5-construction-project-management-challenges-and-their-solutions/