Scaffoldings are essential in the world of construction. They are temporary support structures used by workers to work at particular heights or building angles. While they come in various forms, some are widely used in certain countries, such as the bamboo scaffolding method. Other developers also sometimes modify scaffolding types to suit unconventional projects, such as working on a structure with an upward incline.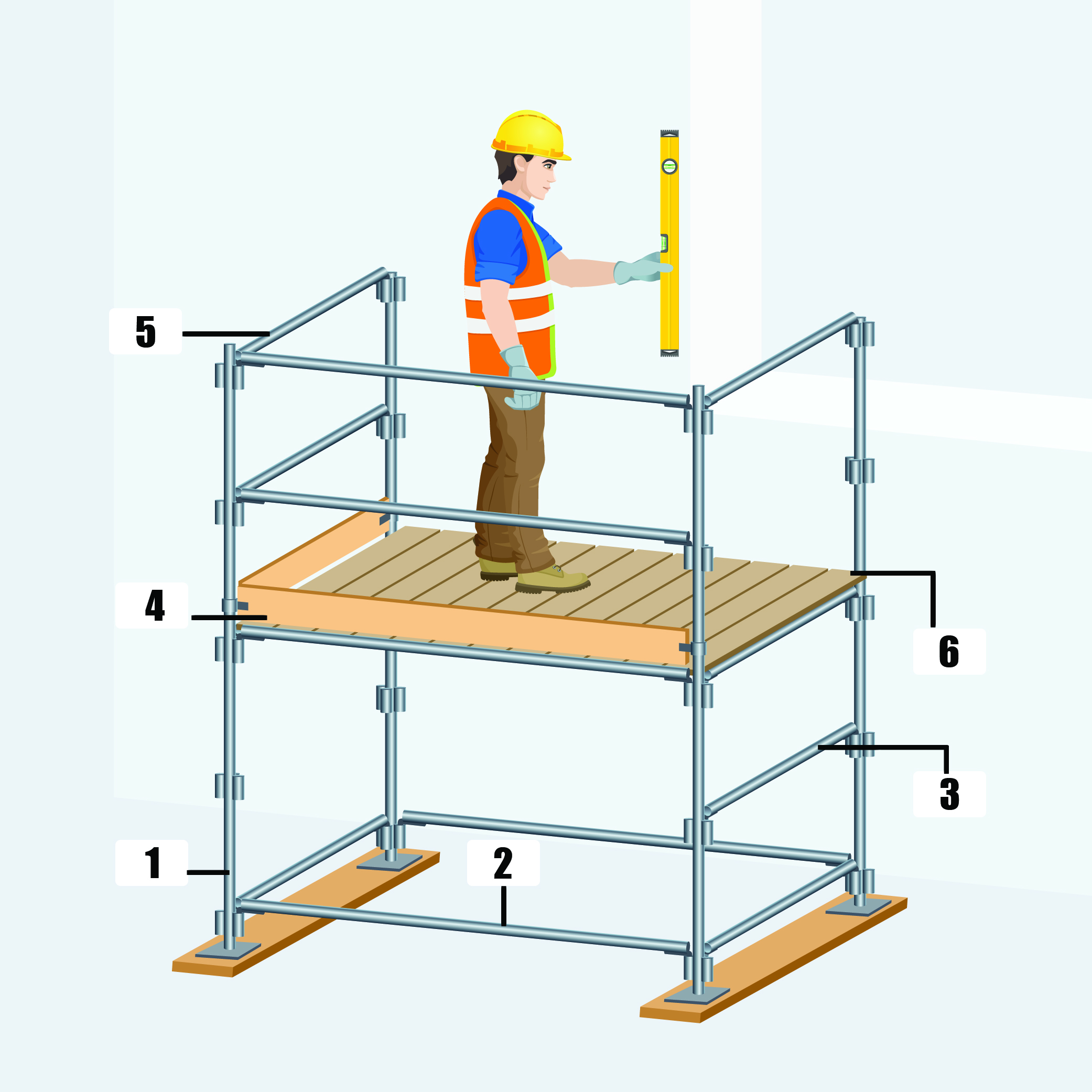 Basic scaffolding diagram. Not pictured: Diagonal Braces.
The framework of a scaffolding utilizes support tubes and locking mechanisms to establish itself on where it is placed. You can refer to the guide below for the most commonly used terms or materials used with conventional scaffolding methods:
1. Standard – The vertical support of a scaffolding. Usually embedded through the ground, though some use barrels and baseplates to support it.
2. Diagonal Braces and Horizontal Braces – The diagonal and horizontal support bars connected to upright standards.
3. Putlogs / Transoms – Horizontal member that connects the wall to a standard.
4. Toeboards – Bottom protective measures to prevent workers from slipping under.
5. Top rails/Guard Rails and Mid Rails – Upper protective measures used to keep workers' balance in check.
6. Platform – The surface that workers walk on.
Some scaffoldings were also designed to support the weight of heavy construction materials for better work convenience. However, its main purpose would always be to provide workers a way to reach elevated areas.
Common Scaffolding Methods:

A. Double Scaffolding. B. Single Scaffolding. C. Simple Trestle Scaffolding. Photos courtesy of C for Civil and Synergy Scaffolding
1. Single Scaffolding / Bricklayer's Scaffolding
Single scaffolding is the most basic type of scaffolding in the market. This type is commonly used for brick masonry projects. It consists of the usual items mentioned above that corresponds to a wall at a distance of 1.2 meters.
2. Double Scaffolding / Independent Scaffolding
Double scaffoldings are used for projects that require two rows of scaffolding. This method is also known as the independent scaffolding or stone mason's scaffolding due to its sturdiness. This aids in making holes in stone walls for putlogs.
3. Trestle Scaffolding
Trestle scaffoldings are the smaller version of the single scaffolding, which is used mainly for interior jobs. They are usually 5 meters tall and can only handle one person at a time. It can sometimes be fitted with wheels for better work flexibility. They can also serve as a bulky alternative to short ladders.

A. Cantilever Scaffolding. B. Hanging Scaffolding. C. Steel Frame Scaffolding. Photos courtesy of Ultimate Scaffolding and Experthub.
4. Cantilever Scaffolding
Cantilever scaffolding is specially used during circumstances that prevent the use of conventional scaffolding methods.
One version relies on standards that are supported on a series of needles through holes in the wall.

Another relies on a ground-based scaffolding method but maintains a passable space under the cantilever platform.
5. Suspended / Swing Scaffolding
Suspended scaffolding is the less complicated version of the cantilever method, wherein the platform is suspended from roofs, rather than relying on support pipes from below. This type is often used for post-construction jobs such as painting, repair works, window-cleaning, and so on.
6. Steel Scaffolding
As the name suggests, this type is constructed using steel tubes that are held together with the use of steel fittings and couplers. It's a popular method primarily due to its flexibility. Easy to assemble and dismantle, it is proven to withstand harsh weather. Its durability and safety features make up for being costlier than the previously mentioned scaffolding methods.
Scaffolding may seem simple in nature, but it works to provide workers a way to safely work on the sides of any building. Since construction projects come in numerous forms, choosing the right scaffolding method is essential in ensuring its timely completion. Study the outline of the job first, identify the risks, and choose the best method accordingly.